Recipes
Salsa de Chile Pasilla Oaxaqueño y Miltomate (Chile and Tomatillo Salsa)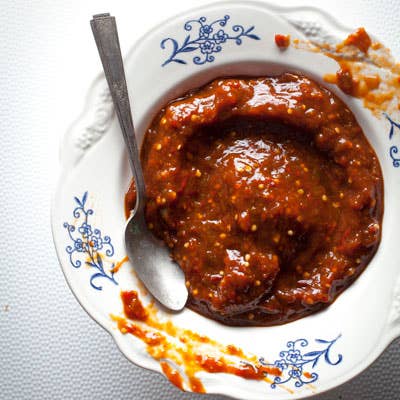 This recipe comes to us from Iliana de la Vega from El Naranjo restaurant in Austin, TX. Its rich spiciness enhances slow-roasted carnitas, grilled chicken, and more.
Ingredients
6 pasilla chiles, preferably Oaxacan, stemmed and seeded
10 tomatillos, husked and rinsed
1 clove garlic
Kosher salt, to taste
Instructions
Step 1
Place chiles in a bowl and pour over 2 cups hot water. Soak until softened, about 10 minutes. Drain and reserve chiles along with the soaking liquid.
Step 2
Place tomatillos in a 2-qt. saucepan, cover with water by 1", and bring to a boil over medium-high heat; cook until slightly soft and their color changes from bright green to almost brown, about 8 minutes. Set aside and let cool.
Step 3
Place chiles, tomatillos, garlic and salt in a blender, and puree until almost smooth, adding some of the soaking liquid to help blend the salsa, if necessary.