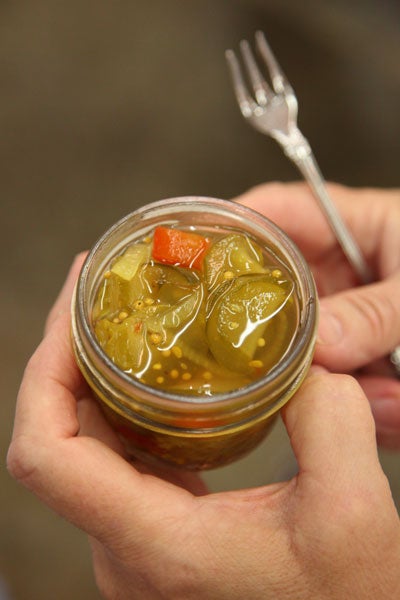 Canned pickles and preserves are staples at any state fair. This recipe first appeared in our June/July 2012 issue along with Jane and Michael Stern's story Fair and Square
Bread and Butter Pickles
Canned pickles and preserves are staples at any state fair.
Ingredients
8 medium cucumbers (about 1 3/4 lb.), cut into 1/6″ slices
1 medium yellow onion, thinly sliced
1 clove garlic, thinly sliced
1⁄2 red bell pepper, stemmed, seeded, and thinly sliced
1⁄2 green bell pepper, stemmed, seeded, and thinly sliced
2 tbsp. kosher salt
1 2⁄3 cups sugar
1 cup cider vinegar
1 1⁄2 tsp. brown mustard seeds
1⁄2 tsp. celery seed
1⁄2 tsp. ground turmeric
Instructions
Combine cucumbers, onion, garlic, and peppers in a large bowl and sprinkle with salt; add 2 cups cracked ice, and toss together. Let sit for 3 hours. Transfer vegetables to a colander, and rinse lightly with cold water. Divide vegetables between two 1-qt. glass jars with resealable lids and set aside.
Bring sugar, vinegar, mustard and celery seeds, and turmeric to a boil in a 1-qt. saucepan; pour mixture evenly between jars and seal jars with lids. Let cool to room temperature and then store in refrigerator for up to 2 weeks.