Mint Chocolate Chip Cookies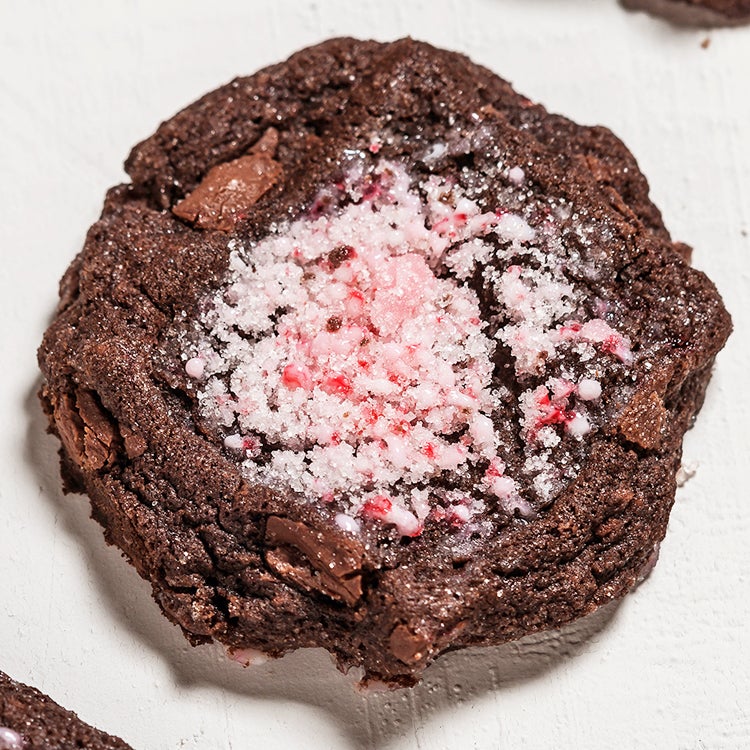 This recipe, from pastry chef Kierin Baldwin, appeared in our 2012 Cookie Advent Calendar. Kierin says: "I'm a junkie when it comes to the mint-chocolate flavor combo and this cookie definitely fits the bill. The pieces of candy cane melt slightly as the cookies bake, giving them a beautiful shiny holiday look. Baking the frozen cookies for a short time in a hot oven keeps the cookies soft in the center once they are cool."
Mint Chocolate Chip Cookies
The pieces of candy cane topping these chocolate cookies melt slightly as the cookies bake, giving them a beautiful shiny holiday look.
Yield:
makes about 4 dozen
Ingredients
1 2⁄3 cups flour
1 cup plus 1 tbsp. Dutch-process cocoa powder
2 tsp. baking soda
1 3⁄4 cups sugar
12 tbsp. unsalted butter
1⁄2 cup packed dark brown sugar
1⁄4 cup vegetable shortening
3 tsp. kosher salt
1 tsp. vanilla paste, such as Nielsen-Massey
1 tsp. mint extract
2 eggs
12 1⁄2 oz. milk chocolate, chopped into rough chunks
2 large peppermint candy canes, chopped into very small, uneven pieces, plus 3 left whole
Instructions
Whisk together flour, cocoa, and baking soda in a bowl; set aside. In another bowl, beat ¾ cup sugar, butter, brown sugar, shortening, 2 ¼ tsp. salt, vanilla paste, and mint extract on medium-high speed of a hand mixer until pale and fluffy, about 3-4 minutes. Add eggs one at a time, and beat until smooth. Add dry ingredients, and mix until just combined. Stir in chocolate and chopped candy canes; transfer to a work surface and shape into a ½"-thick square; wrap with plastic wrap and freeze until firm, at least 4 hours or overnight. Meanwhile, combine remaining sugar and salt with candy canes in a food processor, and process until finely ground; transfer to a bowl and set peppermint sugar aside.
Heat oven to 425°. Cut dough into 1 ½" squares and toss in peppermint sugar to coat, and place 2″ apart on parchment paper-lined baking sheets. Sprinkle remaining peppermint sugar on tops of squares and return to freezer for 30 minutes. Bake until spread and just set and tops are lightly cracked, about 8 minutes.