Recipes
Mofongo con Salsa de Tomate (Mashed Plantains with Tomato Sauce)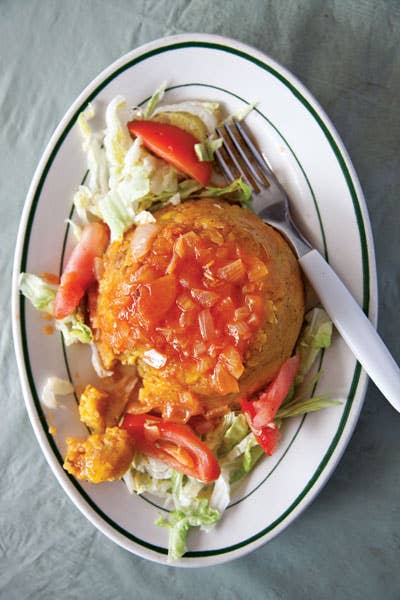 Mashed with bacon and garlic, this plantain dish is served with a quick tomato sauce. This recipe first appeared in our December 2011 issue along with Kathleen Squires's story Island Holiday.
Ingredients
Canola oil, for frying
5 plantains, peeled, cut into 1″ chunks, soaked in hot water
3⁄4 cup chicken stock
8 oz. bacon, cut into 1/4″ cubes
7 cloves garlic, minced
1⁄2 cup olive oil
Kosher salt and freshly ground black pepper, to taste
1 small yellow onion, minced
1 (28-oz.) can whole, peeled tomatoes, drained and crushed Shredded iceberg lettuce and tomato wedges, to serve
Instructions
Step 1
Pour canola oil to a depth of 2″ into a 6-qt. Dutch oven; heat over medium-high heat until a deep-fry thermometer reads 325°. Drain and dry plantains; fry until tender, about 6 minutes. Finely chop plantains in a food processor with stock; set aside. Cook bacon in a 10″ skillet over medium heat until browned, about 15 minutes. Stir bacon and fat into plantains with half the garlic and 5 tbsp. olive oil; season with salt and pepper; set mofongo aside.
Step 2
Heat remaining olive oil in skillet over medium heat. Add remaining garlic and onion; cook until soft, about 15 minutes. Add tomatoes; cook until broken down, about 10 minutes. To serve, spoon mofongo into a 8-oz. ramekin; invert onto a serving plate garnished with lettuce and tomato wedges; top with sauce.