Recipes
Moroccan Chicken Stew with Almonds and Chickpeas (Djej Kdra Touimiya)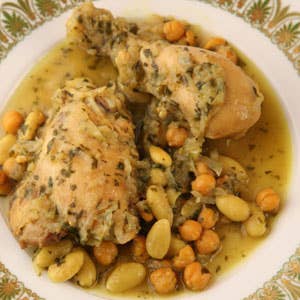 Ingredients
For the Smen (makes about 1/4 cup)
16 tbsp. butter, cut into chunks
6 tbsp. fine sea salt
For the Chicken Kdra
1 (3 1/2-lb.) chicken, cut into 8 pieces, skin removed
1 cup blanched whole almonds
1⁄4 tsp. turmeric or saffron
1 tsp. ground white pepper
1 tsp. ground dried ginger
1 stick cinnamon
2 tbsp. smen
2 yellow onions, thinly sliced
4 cups chicken broth
1⁄4 cup chopped parsley
Kosher salt, to taste
1⁄2 cup canned chickpeas, drained
2 tbsp. fresh lemon juice
Instructions
Step 1
Make the smen: In a bowl, knead together the butter and salt until combined. Form into 8 patties; stack in an earthenware container and cover; set aside to let rest in a cool, dark place for 2 weeks. Melt butter in a pot over low heat, without stirring, removing foam, until clear, 20–25 minutes. Cool. Strain through a cheesecloth-lined sieve. Repeat. Discard solids; spoon into a jar. Seal; store in a cool, dark spot for a month.
Step 2
Make the Chicken Kdra: Combine chicken, almonds, turmeric, pepper, ginger, cinnamon, and 2 tbsp. smen in a medium pot over medium heat; cook, turning, 3–4 minutes. Add half the onions and broth; boil. Reduce to medium-low; cook, covered, for 30 minutes.
Step 3
Add remaining onion and parsley to chicken; cover and cook until chicken is very tender, 25–30 minutes. Remove chicken; set aside. Bring sauce to a boil; cook until thickened, 13–15 minutes. Return chicken to pot along with salt and chickpeas; heat through. Drizzle in lemon juice and serve.