Moroccan Chicken Stew with Almonds and Chickpeas (Djej Kdra Touimiya)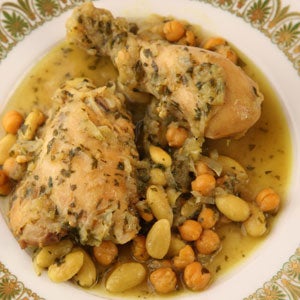 A kdra is akin to the long-cooked North African clay-pot dish known as a tagine. This version is adapted from one by Paula Wolfert in her book Couscous and other Good Foods from Morocco (Ecco Books, 1987).
Moroccan Chicken Stew with Almonds and Chickpeas (Djej Kdra Touimiya)
Similar to a tagine, kdra is a Moroccan stew slow-cooked in a covered pot. Smen, a fermented butter—here, clarified—provides the distinction.
For the Smen (makes about 1/4 cup)
16 tbsp. butter, cut into chunks
6 tbsp. fine sea salt
For the Chicken Kdra
1 (3 1/2-lb.) chicken, cut into 8 pieces, skin removed
1 cup blanched whole almonds
1⁄4 tsp. turmeric or saffron
1 tsp. ground white pepper
1 tsp. ground dried ginger
1 stick cinnamon
2 tbsp. smen
2 yellow onions, thinly sliced
4 cups chicken broth
1⁄4 cup chopped parsley
Kosher salt, to taste
1⁄2 cup canned chickpeas, drained
2 tbsp. fresh lemon juice
Instructions
Make the smen: In a bowl, knead together the butter and salt until combined. Form into 8 patties; stack in an earthenware container and cover; set aside to let rest in a cool, dark place for 2 weeks. Melt butter in a pot over low heat, without stirring, removing foam, until clear, 20–25 minutes. Cool. Strain through a cheesecloth-lined sieve. Repeat. Discard solids; spoon into a jar. Seal; store in a cool, dark spot for a month.
Make the Chicken Kdra: Combine chicken, almonds, turmeric, pepper, ginger, cinnamon, and 2 tbsp. smen in a medium pot over medium heat; cook, turning, 3–4 minutes. Add half the onions and broth; boil. Reduce to medium-low; cook, covered, for 30 minutes.
Add remaining onion and parsley to chicken; cover and cook until chicken is very tender, 25–30 minutes. Remove chicken; set aside. Bring sauce to a boil; cook until thickened, 13–15 minutes. Return chicken to pot along with salt and chickpeas; heat through. Drizzle in lemon juice and serve.