Mrs. Dayton's Glazed Onions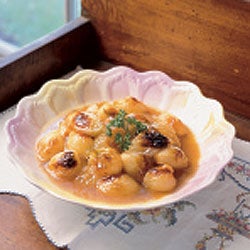 We adapted this recipe from How America Eats (Scribner, 1960). Author and American food pioneer Clementine Paddleford first ate these onions in East Hampton at a Thanksgiving feast she described as being "as typical of Long Island as the breath of fog in the face, or an Island field of potatoes."
Yield: serves 6-8
Ingredients
Salt
4 lb. small white onions (unpeeled)
1⁄2 cup sugar
8 tbsp. butter, cut into pieces
1-2 sprigs fresh parsley
Instructions
Bring a large pot of water to a boil over high heat, then add 2 generous pinches salt. Add onions and cook until soft when pierced, 15–20 minutes. Drain onions in a colander and set aside until cool enough to handle. Peel onions by trimming root ends and slipping them out of their skins, then transfer to a large heatproof baking dish, spreading onions out in a single even layer.
Preheat broiler. Put sugar and 2⁄3 cup water into a medium heavy-bottomed saucepan, cover pot, and boil, swirling pan over heat several times, until sugar dissolves, about 5 minutes. Add butter and 1 tsp. salt and heat, swirling pan occasionally, until butter melts, about 5 minutes more.
Pour sugar–butter mixture over onions and broil, basting and turning onions frequently, until onions brown and syrup turns pale golden, 20–30 minutes. Transfer onions and syrup to a warm serving dish and garnish with parsley sprigs.