Crêpes with Mushrooms, Gruyère, and Spinach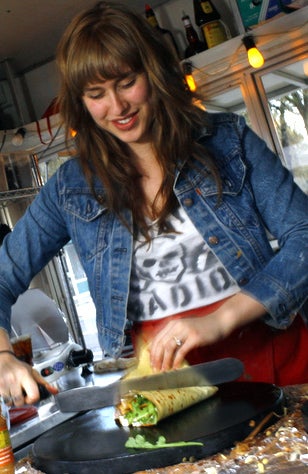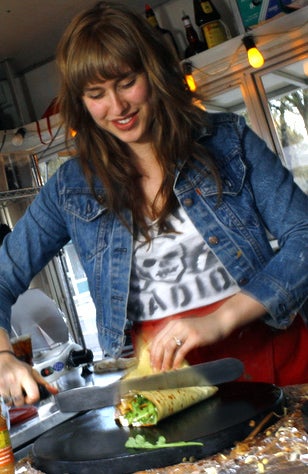 Savory beer-batter crepes get stuffed with mushrooms, eggs, gruyere, and spinach in this take on classic French quiche from the Perierra Creperie cart in Portland, Oregon. This recipe first appeared in our June/July 2012 issue along with Dana Bowen's story Food of the People
Crêpes with Mushrooms, Gruyère, and Spinach
Savory beer-batter crepes get stuffed with mushrooms, eggs, gruyere, and spinach in this take on classic French quiche from the Perierra Creperie cart in Portland, Oregon.
Ingredients
2 cups flour
1 cup milk
3⁄4 cup cold lager
2 eggs
Kosher salt and freshly ground black pepper, to taste
2 cups sautéed sliced mushrooms
1 cup grated gruyère cheese
4 cups baby spinach
8 fried eggs
Instructions
To make the crêpes, combine flour, milk, lager, eggs, salt and pepper, and ¾ cup cold water in a blender and blend until smooth; cover and refrigerate for at least 2 hours.
Heat a 12″ nonstick skillet over medium-high heat. Pour about 1⁄3 cup batter into skillet, tilting skillet to let batter cover bottom completely; sprinkle ¼ cup mushrooms, 2 tbsp. gruyère , and ½ cup spinach over batter and season with salt and pepper. Cook until crêpe is lightly browned on the bottom, about 4 minutes; fold crêpe in half over fillings, place a fried egg on one side of the folded crêpe, and then fold again to sandwich the egg in the crêpe. Serve immediately, and repeat with remaining batter, mushrooms, gruyère, spinach, and fried eggs to make 8 crêpe sandwiches total.