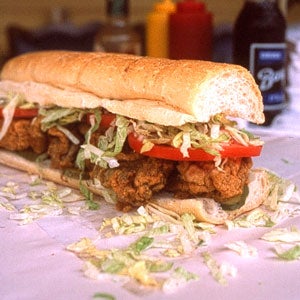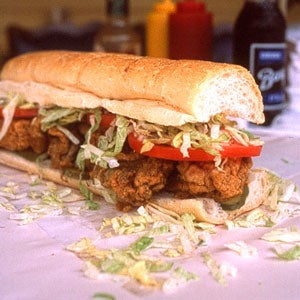 This recipe was given to us by the popular Parkway Bakery & Tavern in New Orleans. Freshly fried oysters seasoned with a mix of garlic and cayenne are sandwiched between crusty bread and topped with crisp lettuce and tomato. See the recipe »
Oyster Po'boy
This recipe was given to us by the popular Parkway Bakery & Tavern in New Orleans.
Ingredients
Vegetable Oil
2 cups corn flour
1⁄2 cup all-purpose flour
1 tsp. garlic powder
1 tsp. freshly ground black pepper
1⁄4 tsp. cayenne
Salt
40 oysters, preferably from the Gulf Coast, shucked and drained
1⁄2 cup mayonnaise
1 loaf (about 20″ long) soft French or Italian bread, halved lengthwise, then crosswise, lightly toasted
16 slices dill pickle
1 ripe tomato, cored and sliced
1⁄2 head iceberg lettuce, shredded
Instructions
Pour oil into a heavy medium pot to a depth of 2″ and heat over medium heat until temperature registers 350º on a candy thermometer.
Meanwhile, combine corn flour, all-purpose flour, garlic powder, black pepper, cayenne, and salt to taste in a wide dish. Working in small batches, dredge oysters in flour mixture, shaking off excess, then deep-fry in the hot oil until golden brown, about 2 minutes. Transfer oysters to a wire rack to let drain briefly.
To assemble, spread mayonnaise on cut length of bread, then put half the pickles, oysters, tomatoes, and lettuce, in that order, on each bottom half. Place top halves of bread atop lettuce.