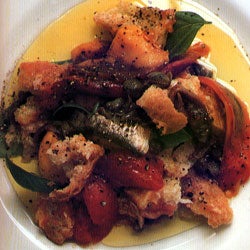 (Tuscan Bread Salad)
To make a truly delicious panzanella, you'll need vine-ripened tomatoes at the height of their seasonal best. Here is our version of the traditional Tuscan summer salad.
Yield: serves 6
Ingredients
3 loaves ciabatta (Italian slipper bread, stale)
2 1⁄4 lb. fresh plum tomatoes
4 cloves garlic, peeled and crushed with salt
Salt and freshly ground black pepper
Tuscan extra-virgin olive oil
4 tbsp. red wine vinegar
3 red bell peppers
3 yellow bell peppers
4 oz. salted capers
6 anchovy filets
5 oz. black olives, pitted
Leaves from 1 bunch basil
Instructions
Cut bread into rough, thick slices, and place in a large bowl.
Peel and halve tomatoes, then seed them into a sieve over a bowl to retain juice. Set tomato halves aside. Discard seeds. Season juice with garlic, black pepper, 1 cup olive oil, and 2–3 tbsp. vinegar. Pour juice over bread and toss until it absorbs all the liquid. If more liquid is required to soak bread completely, add more olive oil.
Blacken peppers over a grill or gas burner, then peel, seed, and cut lengthwise into eighths.
Rinse salt from capers and soak in remaining vinegar.
Gently mix together tomato halves, peppers, drained capers, anchovies, olives, and basil.
Fill a large bowl with alternating layers of soaked bread and pepper mixture, beginning with bread and ending with pepper mixture. Allow to sit for 1 hour at room temperature. Serve moistened with additional extra-virgin olive oil.