Pepper and Coriander Brown Butter Sauce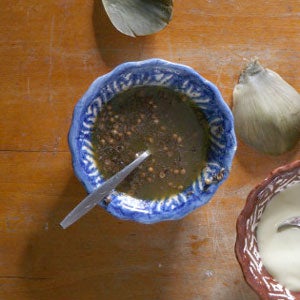 Steamed artichokes are delicious when eaten with drawn butter, but even better when the butter is infused with pepper and coriander.
Yield: makes 1/2 Cup
Ingredients
1 tbsp. cracked black peppercorns
1 tbsp. cracked coriander seeds
8 tbsp. unsalted butter
2 tbsp. red wine vinegar
Kosher salt, to taste
Instructions
In an 8″ skillet over medium-high heat, toast the peppercorns and coriander, swirling constantly, until fragrant, about 3 minutes.
Add the butter and cook until deep brown and foamy, about 4 minutes. Stir in vinegar and salt. Serve warm.