Recipes
Pizza del Papa (Butternut Squash and Smoked Mozzarella Pizza)
Serves

makes four 10-inch pizzas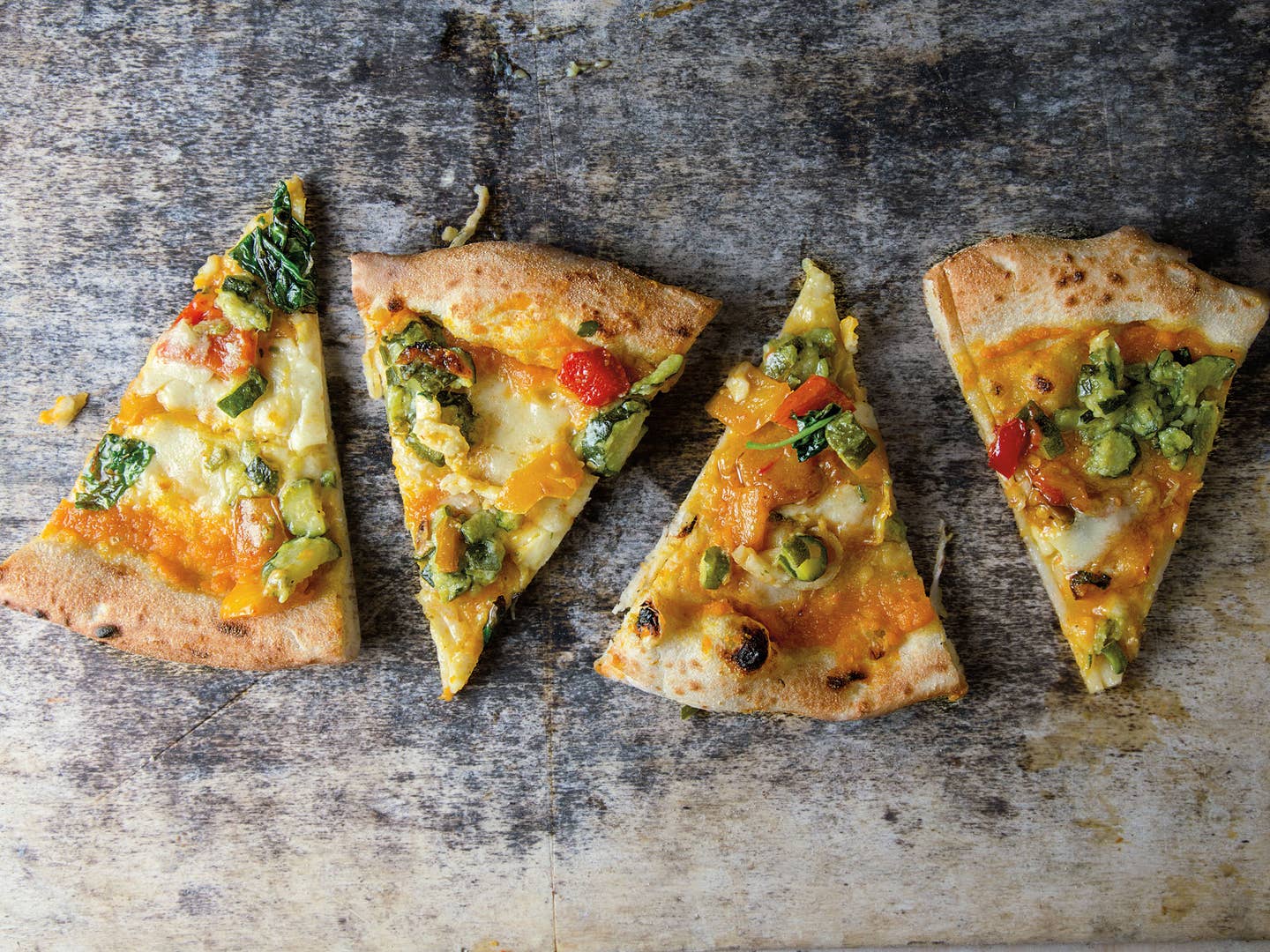 Antonio Starita, the owner of Pizzeria Starita in Naples, served this butternut squash-topped pizza to Pope John Paul II. This recipe first appeared in our May 2013 issue with Keith Pandolfi's article The Gold of Naples.
Ingredients
1 small butternut squash (about 1 lb.), peeled, seeded, and cut into 1" pieces
3⁄4 cup olive oil, plus more
Kosher salt, to taste
1 1⁄4 lb. smoked mozzarella, thinly sliced
2 tbsp. ricotta
2 tbsp. heavy cream
1 tsp. crushed red chile flakes
2 small zucchini, thinly sliced
1 each red and yellow bell peppers, stemmed, seeded, and cut into 1" pieces
1 recipe Naples-style pizza dough
16 fresh basil leaves
Fine semolina, for dusting
Instructions
Step 1
Heat oven to 500°. Toss butternut squash with 1⁄4 cup olive oil and salt on a baking sheet; bake until tender, 20-25 minutes. Transfer to a food processor with 1⁄4 lb. mozzarella, plus ricotta, cream, and salt; purée until smooth. Heat 1⁄4 cup oil and chile flakes in a 12" skillet over medium-high heat. Add zucchini and salt; cook until golden, 8-10 minutes, and transfer to a bowl. Add remaining oil to skillet; return to medium-high heat. Add peppers; cook until golden, 5-7 minutes.
Step 2
Place a pizza stone under the broiler; heat for 30 minutes. Working in 4 batches, dust 1 ball dough with semolina. Using your fingertips, press dough into a 10" circle about 1⁄4" thick, leaving a 1" crust around the edges. Hold dough straight up, and with fingertips circling crust, slide fingers around crust in a circular motion as you would turn a steering wheel until dough in the center is stretched to about 1⁄8" thick; transfer to a semolina-dusted pizza peel. Spread 1⁄2 cup squash purée over dough and distribute a quarter each of the zucchini, peppers, and remaining cheese, plus basil leaves; drizzle with oil. Slide pizza onto stone; broil until cheese melts and crust is puffed and charred in spots, 3-4 minutes. Serve hot.