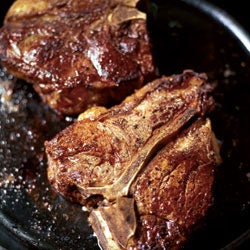 The porterhouse is a delicious, two-part steak, including portions of both the tenderloin and the top loin. This is our favorite way to cook it; it produces a crusty brown exterior and an evenly cooked interior. (Note: This is also a smoky way to cook steak, so use your exhaust fan.)
Porterhouse Steak
The porterhouse is a delicious, two-part steak, including portions of both the tenderloin and the top loin. This is our favorite way to cook it.
Ingredients
2 (2″-thick) (28-36 oz.) porterhouse steaks
Olive oil
Salt and freshly ground black pepper
Instructions
Set steaks out on a clean surface until they reach room temperature throughout, 1-2 hours. Preheat oven to 500°. Put a cast-iron skillet large enough to fit steaks comfortably into oven and heat for 20 minutes. Rub both sides of steaks with a little olive oil and generously season with salt and pepper.
Add steaks to hot skillet and cook in oven until well browned on bottom, 8 minutes. Turn steaks and cook in oven on second side, 5-6 minutes for rare, 7-8 minutes for medium rare. Remove steaks from skillet and set aside to rest for 5 minutes before serving.