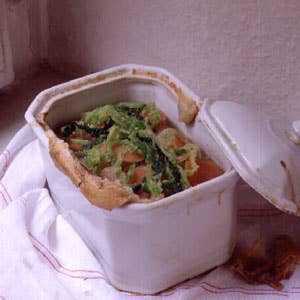 Recipes
Potted Foie Gras and Vegetables
Alsatian housewives used to fill crocks with marinated meats and vegetables and take them to local bakers to be cooked. Chef Émile Jung of Au Crocodile in Strasbourg still seals his luxurious update of this dish with dough, lest we forget Baeckeoffe's humble roots.
**3 large red bliss potatoes, peeled and sliced
1 leek, white part only, washed and sliced
1/2 small yellow onion, peeled and sliced
5 small carrots, peeled and sliced
3 small turnips, peeled and sliced
14 cups chicken stock
3 bay leaves
3 sprigs fresh thyme
1 tbsp. duck or goose fat
Salt and freshly ground black pepper
1 lobe fresh duck foie gras (about 1/2 lb.)
1/2 cup flour
1 fresh black truffle, finely chopped (optional)
1/2 small head savoy cabbage, julienned
**
1. Place potatoes, leeks, onions, carrots, turnips, wine, stock, bay leaves, thyme, and fat in a saucepan. Season with salt and pepper. Bring to a boil over high heat. Reduce heat to medium and simmer until vegetables are tender, about 25 minutes. Drain; reserve broth; set vegetables aside.
2. Remove foie gras from refrigerator and allow to warm just enough to be pliable. Peel away any obvious membrane. Remove large branching vein from lobe by cutting halfway through the middle of lobe, then carefully pulling away and discarding vein as you trace its length with your fingers and knife. Keep lobe as intact as possible. (It is alright if a few traces of vein remain.) Season with salt and pepper.
3. Preheat oven to 400°. Mix flour with 5 tbsp. water in a bowl. Roll dough on a floured surface into the shape of a rope, about 24'' long. Spoon half of the vegetables into a 2-quart terrine (with lid). Add foie gras, then truffles (if using), then remaining vegetables. Top with cabbage and reserved cooking liquid. Cover terrine, wrapping dough around rim to seal. Bake for 30 minutes. Remove Baeckeoffe from oven. Break seal and remove lid. Transfer vegetables to a platter. Slice foie gras, then arrange on vegetables. Serve with broth.