Fougasse (Provençal Bread with Olives and Herbs)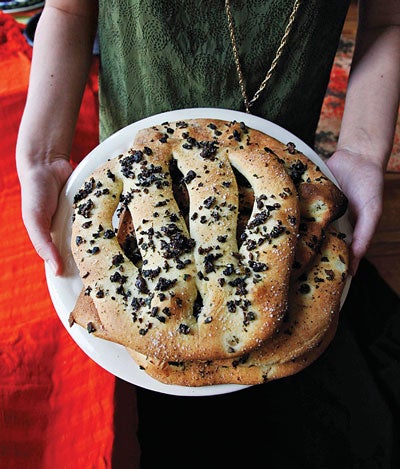 The recipe for this bread, sold as a market specialty in the south of France, comes from author Patricia Wells. Here are the step-by-step instructions for shaping the loaves.
Yield: makes five loaves
Ingredients
1 tsp. active dry yeast
1 tsp. sugar
4 1⁄2 cups flour
2 tbsp. extra-virgin olive oil, plus more for brushing loaves
1 tsp. kosher salt
Cornmeal, for dusting
1⁄2 cup minced kalamata olives
1⁄4 cup minced green olives
2 tbsp. minced fresh parsley
2 tbsp. minced fresh thyme
1 tbsp. minced fresh rosemary
Sea salt and cracked black pepper, to taste
Instructions
In a large bowl, stir together yeast, sugar, and 1 1⁄3 cups water heated to 115°; let sit until foamy, 10 minutes. Stir in flour, oil, and salt and mix until a dough forms. Transfer dough to a lightly floured surface. Knead for 6 minutes. Cover with a damp towel; let sit until doubled in size, 1 1⁄2 hours.
Heat oven to 500°. Divide dough into 5 equal pieces. Working with one dough piece at a time, roll into a rough 8″ x 5″ triangle. Transfer rectangle to a cornmeal-dusted, parchment paper–lined baking sheet. Using a sharp knife, cut three lengthwise parallel slashes in middle of dough and one small slash below and parallel to middle large slash. Spread slashes apart with your fingers. Cover with a damp towel; let rest until puffed, about 30 minutes. Combine olives and herbs in a bowl. Lightly brush each dough piece with oil; sprinkle with olive mixture and season with salt and pepper. Bake, one at a time, until golden brown, about 15 minutes each.