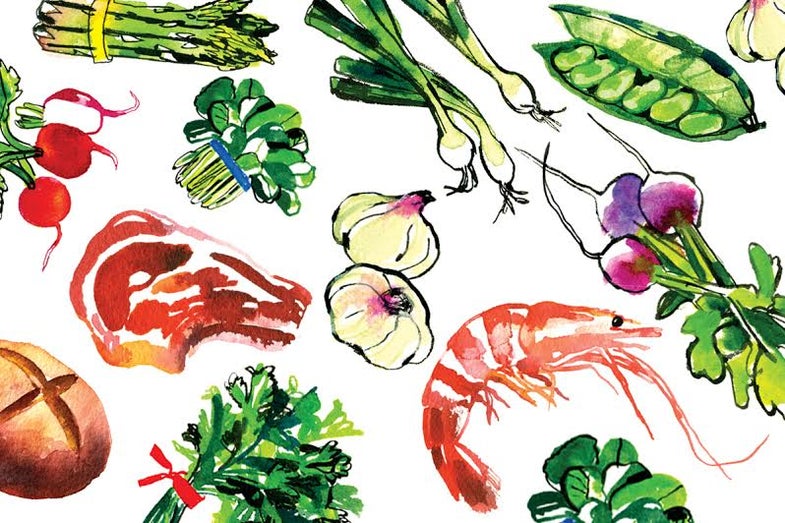 The subtle bitterness of the purslane gives way to the tang of the tomatillo broth.
Yield: serves 4-6
Ingredients
2 1⁄2 lb. pork spareribs, cut into 3″ pieces
4 cloves garlic
1 white onion, chopped
4 dried árbol chiles, stemmed
2 lb. tomatillos, husked
2 lb. purslane, coarsely chopped
2 Tbsp. vegetable oil
Salt
Instructions
Put spareribs, 2 cloves garlic, half of the chopped onion, and 2 1⁄2 quarts water into a pot; boil. Reduce heat; simmer until tender, 2 hours. Strain broth, reserving pork and 6 cups broth; discard garlic and onions.
Bring a pot of salted water to a boil. Add chiles and tomatillos; cook until soft, 10–12 minutes. Transfer tomatillos and chiles to a blender with remaining onions, remaining garlic, and 1⁄2 cup water; purée and set aside.
Return water to a boil; add purslane; cook until soft, 3–5 minutes. Drain.
Brown pork in oil in a pot over medium-high heat, 4–5 minutes. Reduce heat to medium and add tomatillo purée; cook until thickened slightly, 8–10 minutes; transfer to pot with broth. Add cooked purslane and salt to taste. Simmer until pork is falling off the bone, about 30 minutes.