Ranch House Pâté with Cognac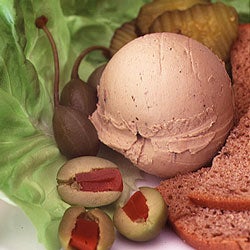 A ballerina named Carmeleta Maracci offered this recipe to Alan Hooker, founder of the Ranch House Restaurant in Southern California's Ojai Valley. "There are those," Hooker once observed, "who will consider the addition of cream cheese a sacrilege, but it smooths the pate so beautifully that we disregard the purists."
Ranch House Pâté with Cognac
Cream cheese is the secret ingredient in this recipe — it smooths out the pâté beautifully.
Ingredients
6 tbsp. butter
2 scallions, trimmed and finely chopped
Black truffle (optional), shaved
3⁄4 lb. chicken livers
1 tsp. salt
1 tsp. dry mustard
1⁄4 tsp. freshly ground nutmeg
Pinch ground cloves
4 oz. cream cheese
2 tbsp. cognac
Instructions
Melt 2 tbsp. of the butter in a saute pan over medium heat. Add scallions and cook until softened but not browned, about 5 minutes. Meanwhile, if using truffle, finely chop all but 4 shavings (reserve these for garnish) and set aside.
Add chicken livers and cook, covered, over medium heat until just cooked through, 5-7 minutes.
Remove pan from heat and stir in salt, mustard, nutmeg, and cloves. Transfer to a blender or food processor and puree until smooth, about 2 minutes. Continue to process, blending in remaining 4 tbsp. butter, cream cheese, and cognac. Mix in chopped truffle (if using), then transfer to small bowls or well-oiled molds, cover with plastic wrap, and refrigerate until firm, about 24 hours.
Serve a generous portion of pate on a bed of greens with bread, olives, and caper berries, if desired, and garnish with reserved truffle shavings.