Roast Chicken with Root Vegetables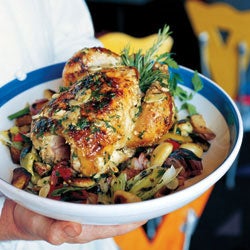 Chef John Anderson, who cooked this dish for us at the Wolfgang Puck Cafe on LA's Sunset Strip, notes, "If a chef can properly roast a chicken, there's a very good chance that he understands food."
Yield: serves 2-4
Ingredients
For the Chicken and Sauce
4 branches fresh rosemary, bruised, plus 1 sprig
6 cloves garlic, crushed and peeled, plus 3 cloves, peeled, blanched for 15 seconds, cooled in ice water, then sliced
1⁄2 cup plus 1 tbsp. extra-virgin olive oil
1 (3 1/2–4-lb.) chicken
Kosher salt and freshly ground white pepper
1⁄2 cup rich chicken stock
4 tbsp. butter, cut into pieces
Juice of 1/2 lemon
1⁄4 bunch parsley, leaves chopped
For the Roasted Vegetables
6 cloves garlic, peeled
6 small new potatoes, quartered
2 bell peppers, 1 red and 1 green, cored, seeded, and cut into 2″ squares
1⁄2 small kabocha squash, seeded, peeled, and cut into 2″ squares
2–3 celery hearts, cut in half lengthwise, then into thirds
2–3 leeks, white part only, trimmed, halved lengthwise, cleaned, blanched for 30 seconds, and cooled in ice water
1 red onion, peeled and halved crosswise, each half quartered
Kosher salt and freshly ground white pepper
Instructions
For the chicken: Strip leaves from 2 of the rosemary branches and finely chop. Finely chop 3 of the garlic cloves. Combine chopped rosemary and garlic and 1⁄2 cup oil in a bowl and set aside. Generously season chicken cavity with salt and pepper, then stuff with remaining 2 branches rosemary and 3 garlic cloves. Tie legs together with kitchen twine and rub all over with half the prepared oil. Wrap in plastic and refrigerate overnight.
Preheat oven to 375°. Rub chicken with half the remaining prepared oil and generously season with salt and pepper. Put chicken, breast side up, directly on an oven rack set in the middle of the oven and set a large roasting pan on an oven rack underneath the chicken. Roast until skin is deeply golden and internal temperature reaches 165°, 50–60 minutes.
For the vegetables: While chicken is roasting, put garlic, potatoes, peppers, squash, celery hearts, leeks, and onions into a large bowl. Add the remaining prepared oil, season to taste with salt and pepper, and mix well. After chicken has been roasting for 25 minutes, put vegetables in roasting pan under chicken to roast until chicken is cooked and vegetables are soft, another 25–35 minutes.
For the sauce: Heat 1 tbsp oil, blanched and sliced garlic, and rosemary sprig in a small pan over medium heat until garlic begins to brown, about 2 minutes. Add stock and simmer until reduced by half, 8-10 minutes; discard rosemary. Whisk in butter, a few pieces at a time, then add lemon juice and season to taste with salt and pepper. Add parsley just before serving.
Transfer vegetables and chicken to a deep platter, remove kitchen twine, then pour sauce over top.