Roast Pork Loin with Rosemary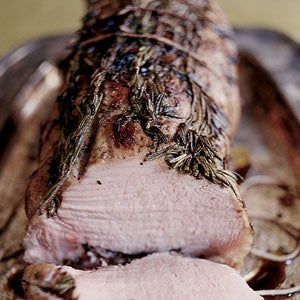 A whole pork loin and some rosemary, salt, pepper, and oil are all that's needed for this simple centerpiece dish. We recommend serving whole roasted apples as an accompaniment. This is one of several delicious preparations included in Kathleen Brennan's homage to rosemary, "Honored Herb" (March 2001).
Yield: serves 8-12
Ingredients
1 (5–6-lb.) boneless pork loin
Olive oil
Salt and freshly ground black pepper
3 tbsp. chopped fresh rosemary leaves
6 rosemary branches
Instructions
Preheat oven to 250°. Rub pork loin with olive oil and season with salt, freshly ground black pepper, and 3 tbsp. chopped fresh rosemary leaves.
Lay 6 rosemary branches on top of roast, then tie up roast with kitchen twine.
Put roast into a heavy roasting pan and brown on all sides on top of stove over medium-high heat, then roast in oven to an internal temperature of 150°, about 2 hours. Set roast aside for 20 minutes before carving.