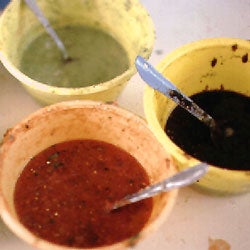 We like to eat this "roasted" tomato salsa with tortilla chips. (Broiling allows you to use the juice that seeps out while cooking.)
Salsa Roja
We like to eat this "roasted" tomato salsa with tortilla chips.
Ingredients
2 tomatoes
2 cloves garlic
1 large fresh serrano chile, stemmed
1 tbsp. roughly chopped fresh cilantro
Pinch sugar
Salt
Instructions
Preheat broiler. Place tomatoes on a baking pan lined with aluminum foil. Char, turning to blacken all over, about 15 minutes.
Heat a cast-iron skillet over medium heat. Add garlic and chile, and toast, turning frequently, until soft, 10-15 minutes. Set aside to cool.
Peel garlic, then place in a blender or food processor with chile and pulse until chopped. Core tomato (blackened skin will lend a slightly smoky flavor), add to puree, and pulse until blended. Transfer to a bowl. Stir in cilantro and sugar. Season with salt.