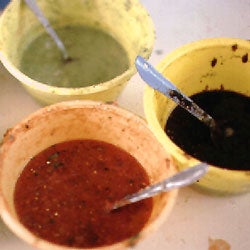 The tart green tomatillo that gives this salsa its hue—and its name—is, after the tomato, the most popular salsa ingredient in Mexico.
Yield: makes 1 1/2 Cups
Ingredients
1⁄2 lb. fresh tomatillos
1 clove garlic, peeled and chopped
4 fresh serrano chiles, stemmed and chopped
Salt
2 tbsp. minced white onion
2 tbsp. roughly chopped fresh cilantro
Instructions
Remove papery husks from tomatillos, rinse, and quarter. Place in a blender or food processor with garlic, chiles, a pinch of salt, and 1⁄3 cup water. Pulse until finely chopped.
Transfer to a bowl and stir in onions and cilantro. Season with salt.