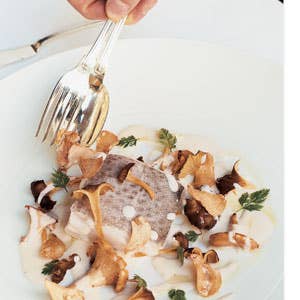 Bacalla Confitat amb Salsa d'All i Rossinyols
In this dish, Santamaria's delicate garlic cream suggests a refined version of allioli, the basic Catalan emulsion of garlic and olive oil.
1 side top-quality salt cod with skin
For the garlic cream:
2 heads garlic, cloves separated, peeled, and halved (discard any pale green shoots)
1/4 cup vegetable stock
2 tbsp. heavy cream
1/4 cup extra-virgin olive oil
Salt
For the garlic chips:
1/4 cup olive oil
8 cloves garlic, peeled and thinly sliced
For the fish:
4 cups plus 1 tbsp. extra-virgin olive oil
2 cloves garlic, crushed and peeled
1 fresh hot red chile, halved
8 oz. small chanterelles, cleaned, trimmed, and halved lengthwise
1 small shallot, peeled and minced
Salt and freshly ground black pepper
Leaves from 2 sprigs of chervil
1. Cut out meatiest part of salt cod loin by trimming off ragged or bony ends, then trimming off belly flap (use belly flap and other trimmings for another salt cod dish, like brandade; see saveur, January/February 1999). Soak loin in a large bowl of cold water for 3 days, changing water 4-5 times a day. Drain and pat dry.
2. For the garlic cream: Bring a small pot of water to a boil over high heat. Blanch garlic for 20-30 seconds, then drain. Repeat process 2 more times. Put blanched garlic, stock, and cream into a blender and puree until smooth. With motor running, gradually add oil in a thin, steady stream through hole in blender lid. Season to taste with salt and set aside.
3. For the garlic chips: Heat oil in a small skillet over medium heat until hot but not smoking. Add garlic and fry, stirring constantly with a slotted spoon, until just pale golden, 2-3 minutes. Transfer to paper towels to let drain.
4. For the fish: Remove bones from cod with a pair of tweezers or pliers. Cut cod into four 3"-4" pieces (save remaining pieces for another use). Put 4 cups of the oil, garlic, and chiles into a medium pan and heat over medium-low heat until temperature reaches 175°. Add cod and poach until cooked through, 8-10 minutes. Meanwhile, heat remaining oil in a large skillet over medium heat. Add mushrooms and cook, stirring often, until just cooked through, 6-8 minutes. Add shallots and cook, stirring, until soft, 1-2 minutes. Season to taste with salt and pepper. Transfer cod with a slotted spatula to paper towels to let drain.
5. To serve, put a spoonful of the garlic cream on each of the 4 warm plates and set a piece of cod, skin side up, on top. Scatter one-fourth of the mushrooms around fish on each plate. Drizzle some of the remaining garlic cream around each plate and garnish each with some of the garlic chips and chervil.