Sauteed Rice (Arroz Brasileiro)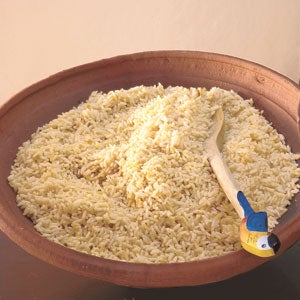 Rice, like collard greens, came to Brazil with the Portuguese. Rice (like beans) is often eaten twice a day in Brazil, at tables rich and poor.
Sauteed Rice (Arroz Brasileiro)
This flavorful rice dish is a common dish eaten almost daily in Brazil.
Ingredients
2 carrots, trimmed and peeled
3 tbsp. butter
2 tbsp. olive oil
1 small yellow onion, peeled and chopped
1⁄3 bunch cilantro, chopped
2 cloves garlic, peeled and minced
2 chicken-flavored bouillon cubes
converted rice, rinsed
Salt
Instructions
Grate carrots on the small holes of a box grater and set aside. Bring 10 cups water to a boil in a medium pot over high heat.
Meanwhile, heat butter and oil together in a large wide pot over medium heat until butter melts. Add carrots, onions, cilantro, garlic, and bouillon cubes and cook, stirring frequently and mashing cubes with the back of a wooden spoon, until carrots and onions are soft, 8-10 minutes. Add rice and cook, stirring frequently to coat rice well, about 2 minutes.
Add enough boiling water to pot to cover rice by 2″, season to taste with salt, and stir well. Increase heat to high and boil, undisturbed, until tunnels appear on surface of rice and liquid evaporates to about 1″ below surface of rice, about 15 minutes. Reduce heat to low, cover pot, and cook until rice is tender, about 15 minutes more. Remove pot from heat and set aside, covered, to let rest undisturbed for 10 minutes before serving.