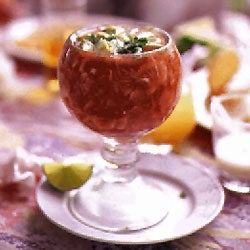 (Vuelve a la Vida)
This dish, whose name literally means "Return to Life," is reputed to be a hangover remedy. Use whatever shellfish is freshest.
Yield: serves 4-6
Ingredients
1 cup <a href="https://www.saveur.com/article/Recipes/Homemade-Ketchup">Homemade/ Ketchup</a>
1⁄4 cup finely chopped peeled white onion
2 tbsp. olive oil
2 tbsp. orange juice
Juice of 2 limes
1⁄2 cup clam juice
2 lb. cooked shelled seafood (for instance, 1 1⁄2 lbs. lobster, 1⁄4 lb. shrimp, and 1⁄4 lb. crab)
Salt and freshly ground white pepper
1 avocado, peeled and chopped
Fresh cilantro, chopped
White onion, peeled and finely chopped
Lime wedges
Instructions
In a large bowl, stir together ketchup, onions, oil, orange juice, lime juice, clam juice, and 1 1⁄2 cups water.
Roughly chop seafood and stir into sauce. Season to taste with salt and pepper. Top with avocado, cilantro, and onions. Garnish with lime wedges.