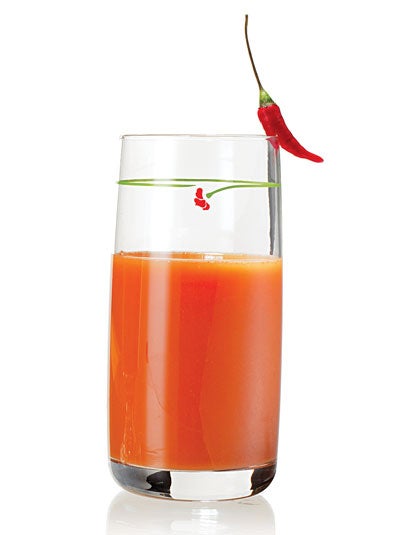 In this incarnation of the bloody mary, served at the St. Regis Hotel in Singapore, chiles and lemongrass lend fiery and citrusy notes.
Yield: makes 1 Cocktail
Ingredients
2 red Thai chiles
1 1⁄2 tbsp. sugar
12 cherry tomatoes
1 (1″) piece peeled ginger, finely chopped
1 (1″) piece lemongrass, finely chopped
1 oz. vodka
Instructions
Remove stem from 1 chile; add stemmed chile to blender with sugar, tomatoes, ginger, and lemongrass; purée. Set a sieve over a cocktail shaker; strain mixture. Discard solids.
Add vodka and 2 cups ice; cover and shake until chilled. Strain into a glass; make a slit in remaining chile and perch it on rim of glass.