Recipes
Small Pastry Puffs with Chocolate Sauce and Vanilla Ice Cream (Profiteroles au Chocolat)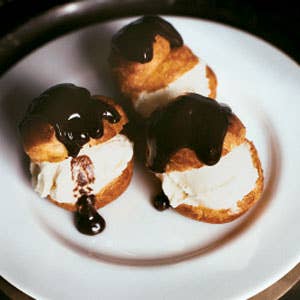 Don't let the appearance of these cream puffs intimidate you; this dessert is both fun and easy to make at home. Even though this is the classic recipe, let your imagination run wild and stuff these little puff dandies with coffee, chocolate or peanut butter ice cream, if you like.
Ingredients
For the Pastry
4 tbsp. butter, cut into pieces
1⁄2 cup plus 1 tbsp. flour
1⁄4 cup milk
1⁄2 tsp. granulated sugar
1⁄2 tsp. salt
2 eggs, lightly beaten
1 tbsp. confectioners' sugar
For the Sauce
4 oz. semisweet chocolate
6 tbsp. milk
1 tbsp. heavy cream
2 tbsp. sugar
1 tbsp. butter
3⁄4 pint vanilla ice cream, slightly softened
Instructions
Step 1
For the pastry: Preheat oven to 425º. Grease a baking sheet with 1⁄2 tbsp. of the butter, dust with 1 tbsp. of the flour, tapping out excess, and set aside. Put milk, 1⁄4 cup water, granulated sugar, salt, and the remaining butter into a medium heavy-bottomed saucepan and bring to a boil over high heat. Remove pan from heat and beat in all of the remaining flour at once with a wooden spoon. Then return pan to medium heat and vigorously beat with the spoon until mixture forms a thick dough and pulls away from the sides of the pan, about 2 minutes. Transfer dough to a medium mixing bowl. Beat in one-third of the eggs at a time, beating constantly with the spoon after each addition, until dough is smooth.
Step 2
Transfer dough to a pastry bag fitted with a plain round 1⁄2" tip. Pipe 12 mounds of dough about 1 1⁄2" wide onto the prepared baking sheet about 1" apart (you may have enough dough to make 1 extra mound; cook's treat), then dust mounds of dough with confectioners' sugar. Transfer to oven, immediately reduce oven temperature to 400º, and bake until puffed and deep golden brown, 15–18 minutes. Set puffs on a rack to cool completely.
Step 3
For the sauce: Melt chocolate in a medium bowl set over a medium pot of gently simmering water over medium-low heat. Meanwhile, bring milk to a simmer in a medium saucepan over medium heat. Add cream to milk and return to a simmer. Add the melted chocolate, sugar, and butter and whisk until smooth. Keep sauce warm over lowest heat.
Step 4
To assemble the puffs, make a wide incision in the side of each puff. Fill each puff with a small scoop of ice cream. Spoon warm sauce over the puffs. Serve immediately.