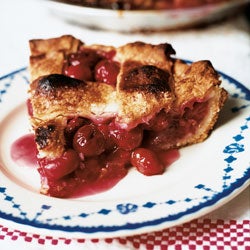 With their complex, tart flavor, sour cherries make the best pie filling. This recipe is an adaptation of one that appears in Rose Levy Beranbaum's definitive The Pie and Pastry Bible (Scribner, 1998).
Yield: makes 1 9" pie
Ingredients
FOR THE PASTRY:
2 cups plus 3 tbsp. pastry flour
1⁄4 tsp. salt
1⁄4 tsp. baking powder
9 tbsp. cold cream cheese
12 tbsp. unsalted cold butter, cut into pieces
1 tbsp. cider vinegar
1 tbsp. heavy cream
1 tbsp. sugar
FOR THE FILLING:
3⁄4 cup plus 2 tbsp. sugar
7 1⁄2 tsp. cornstarch
Pinch salt
1 1⁄2 lb. fresh sour cherries, stemmed and pitted (4-5 cups)
1⁄4 tsp. almond extract
Instructions
For the pastry: Whisk flour, salt, and baking powder together in a large bowl. Use your fingers to work cream cheese into flour mixture until mixture resembles coarse meal. Use two table knives to work in butter until mixture is flecked with pea-size pieces of butter. Sprinkle in vinegar and 2 tbsp. ice water, tossing lightly with a rubber spatula, then turn out onto a lightly floured surface. Quickly knead dough until smooth. Divide dough into 2 balls, one slightly larger than the other, flatten each into a disk, and wrap each in plastic wrap. Refrigerate for 1 hour.
For the filling: Stir sugar, cornstarch, and salt together in a large bowl, then stir in cherries and almond extract. Allow cherries to macerate for at least 10 minutes and up to 3 hours.
Put a baking sheet on middle rack of oven and preheat oven to 425°. Roll larger disk of dough out on a lightly floured surface into an 11″ round, then ease into a 9″ pie pan. Stir filling, then transfer to pastry. Roll remaining dough out into a 10″ round and cut into six 1 1⁄4″-wide strips. Weave strips on top of filling in a lattice pattern and fold edges under. Brush strips with cream and sprinkle with sugar. Set pie on baking sheet and bake until crust is golden brown, 40-50 minutes. Let pie cool for several hours before serving.