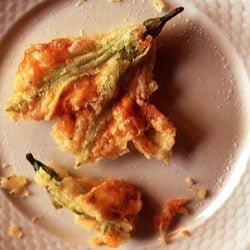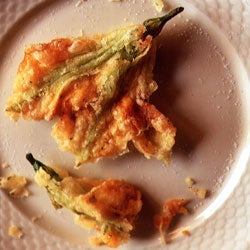 Light and delicate, these fried squash blossoms are an unforgettable treat.
Yield: serves 6
Ingredients
1 1⁄2 cups flour
1 tsp. salt
1 tbsp. extra-virgin olive oil
1 lightly beaten egg
18 large or 36 small squash blossoms
Vegetable oil
1 clove garlic, peeled and finely chopped
2 tbsp. finely chopped flat-leaf parsley
Instructions
Sift flour and salt into a medium bowl. Whisk in 2 cups water, olive oil, and egg.
Remove center stamens from squash blossoms; wash and pat dry.
Heat 1" vegetable oil in a large, heavy saucepan over high heat. Just before frying, add garlic and parsley to batter, stirring well. Dip flowers in batter, coating them inside and out. Fry 1–3 minutes, turning frequently. Drain and sprinkle with salt.