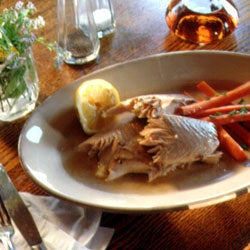 The northwestern woods of Maine offer anglers some of the best trout fishing in America. This recipe is a deliciously easy way to cook these big fish.
Steamed Trout
A simple steaming is one of the finest ways to show off the flavor of fresh-caught trout.
Ingredients
1 2-lb. whole trout or freshwater salmon, cleaned
2 tbsp. butter
2 tbsp. cider vinegar
Salt and pepper
1 lemon, quartered
Instructions
Preheat oven to 400°. Wrap fish in a single layer of cheesecloth, and place in a fish poacher or on a rack in a baking pan.
Pour 2–3 cups boiling water into bottom of pan. Cover, place in oven, and cook for 20 minutes. Remove from oven, transfer fish to a platter, unwrap, dot with butter, sprinkle with cider vinegar, season with salt and pepper, and serve with lemon quarters.