Recipes
Swiss Chard and Chipotle Tacos
Smoky chiles in adobo and savory mushrooms bring hearty flavor to these vegetarian tacos.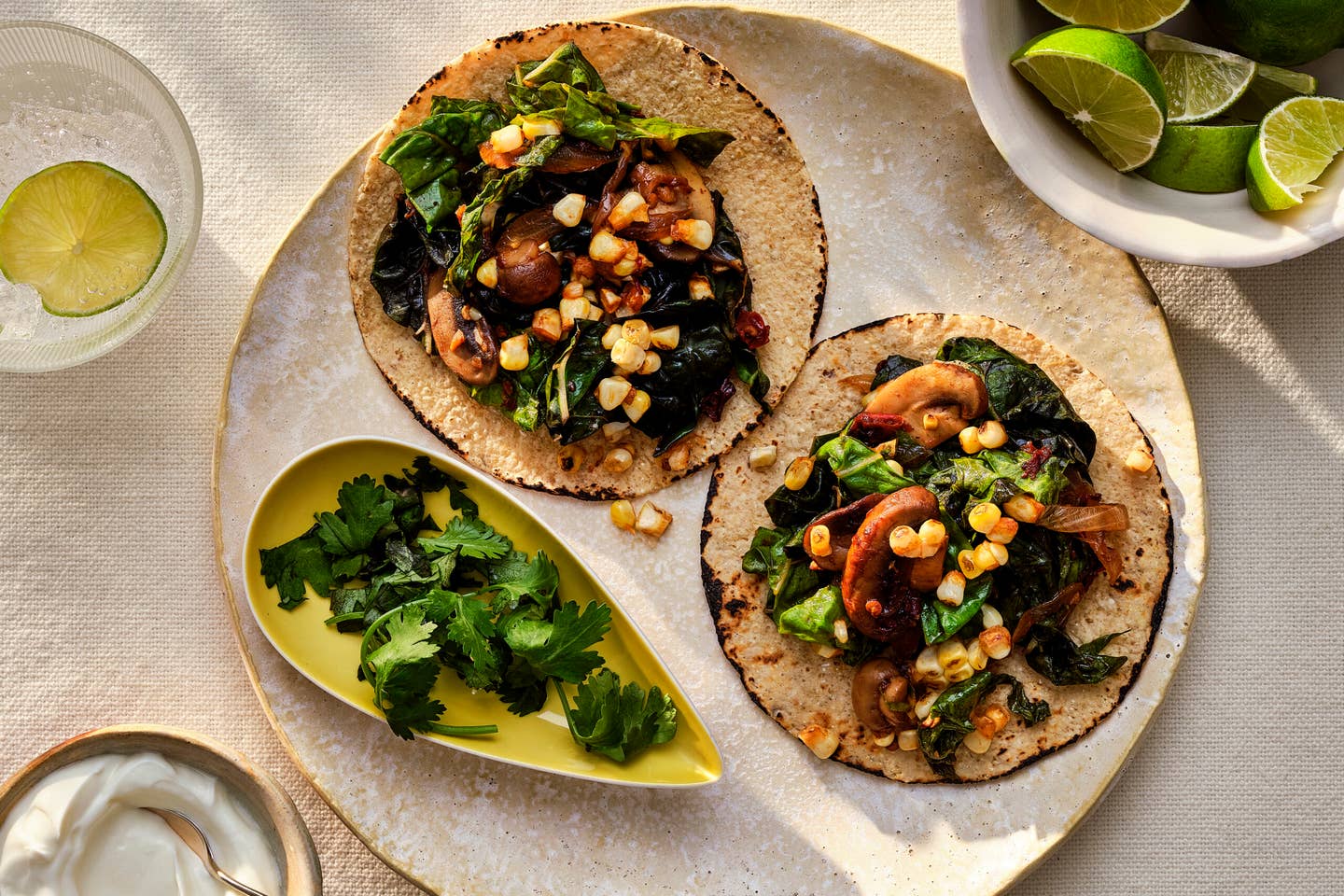 Onions, mushrooms, sweet corn, and chiles in adobo add hearty, smoky flavors to these vegetarian tacos. Here are eight more ways we're cooking with swiss chard.
Ingredients
2 tbsp. olive oil
1 medium yellow onion, quartered and thinly sliced
2 cups thinly sliced cremini mushrooms
2 garlic cloves, finely chopped
1 tbsp. soy sauce
2 canned chipotle peppers in adobo sauce, seeded and finely chopped, plus 1 tsp. sauce
1¼ cups fresh or thawed frozen corn kernels
1 bunch chard, cleaned and stemmed, leaves cut into ½-in. ribbons (about 3 cups)
Kosher salt and freshly ground black pepper
Warm corn tortillas, coarsely chopped cilantro, sour cream, and lime wedges, for serving
Instructions
Step 1
To a large skillet set over medium-high heat, add the onion and cook until golden and softened slightly, about 7 minutes. Add the mushrooms and garlic and cook until the mushrooms are lightly browned, about 5 minutes. Add the soy sauce, chipotles and their sauce, corn, chard, and salt and black pepper to taste. Cover and cook, stirring occasionally, until the chard is wilted, about 5 minutes. Spoon the filling onto the tortillas and top with cilantro and sour cream. Serve the tacos with lime wedges on the side.
Don't limit your options to just salad—there are lots of choices if you're looking to avoid meat >