Recipes
The Manor Born Banana Cake with Coffee Buttercream
Serves

makes ONE 8" LAYER CAKE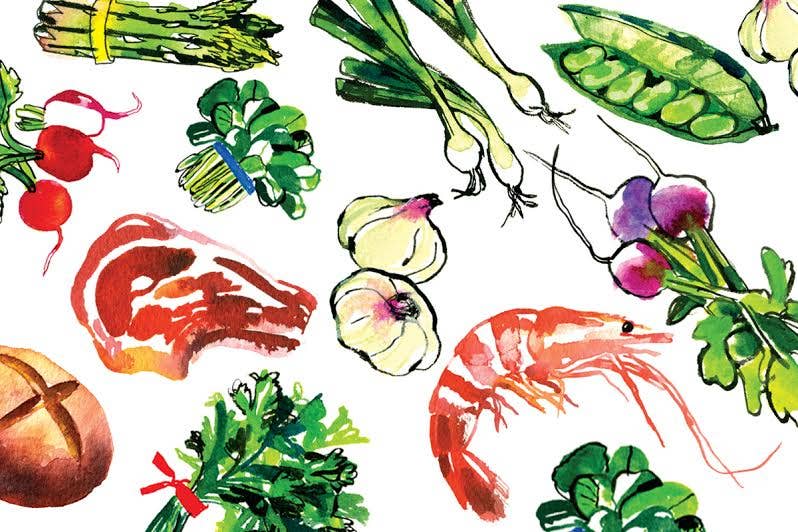 Although this cake hasn't been on the Serendipity 3 menu since the 1960s, it remains one of surviving owner Stephen Bruce's favorite desserts. The recipe appears in Bruce's cookbook, Sweet Serendipity: Delightful Desserts and Devilish Dish (Universe Books).
Ingredients
FOR THE CAKE:
8 Tbsp. unsalted butter, softened
2 1⁄4 cups cake flour
2 tsp. baking powder
1 tsp. baking soda
1⁄4 tsp. salt
1 1⁄3 cups sugar
1 cup mashed ripe bananas (from about 2 medium bananas)
2 eggs
Scant 1/2 cup buttermilk
1 cup coarsely chopped shelled unsalted pecans
FOR THE FROSTING:
1 cup sugar
2 Tbsp. instant espresso powder
6 egg yolks
1 lb. unsalted butter, cut into small pieces and softened
Instructions
Step 1
For the cake: Preheat oven to 375°. Use 1 tbsp. of the butter to grease three 8" round cake pans, line each pan with parchment paper, and set aside. Sift flour, baking powder, baking soda, and salt together into a medium bowl and set aside. Beat remaining 7 tbsp. butter and sugar together in a large mixing bowl with an electric mixer on high speed until fluffy, 3-4 minutes. Add bananas and beat on medium speed until well combined. Add eggs and buttermilk and beat until fully incorporated. Add flour mixture, stirring with a wooden spoon until just incorporated, then fold in pecans. Divide batter equally between prepared pans, smoothing tops with the spatula. Bake until cakes are golden brown and spring back when touched, 10-15 minutes. Cool cakes in their pans for 5 minutes on a wire rack, then remove them from pans, peel off parchment, and allow cakes to cool completely on the rack.
Step 2
For the frosting: Combine sugar and 1⁄2 cup water in a small saucepan and boil over medium heat until sugar dissolves and syrup reaches 238° on a candy thermometer, 15-20 minutes. Meanwhile, dissolve espresso powder with 1 tsp. boiling water in a small bowl and set aside. Beat egg yolks in a medium mixing bowl with an electric mixer on high speed until pale yellow, 4-5 minutes. Gradually add hot sugar syrup to yolks in a slow steady steam down the side of the bowl, beating constantly on medium speed, and continue beating until mixture cools to room temperature, about 5 minutes. Add butter, one piece at a time, beating thoroughly on medium speed after each addition, and continue beating frosting until light and fluffy, about 5 minutes. Beat in espresso and set aside.
Step 3
To assemble the cake, stack cake layers on top of each other on a cake plate, spreading about 1 cup of the frosting between each layer, then ice side and top of assembled cake with remaining frosting. Decorate cake by piping some of the frosting on top and garnishing with coffee beans, if you like. Refrigerate cake until frostingis set. Bring cake to room temperature before serving.