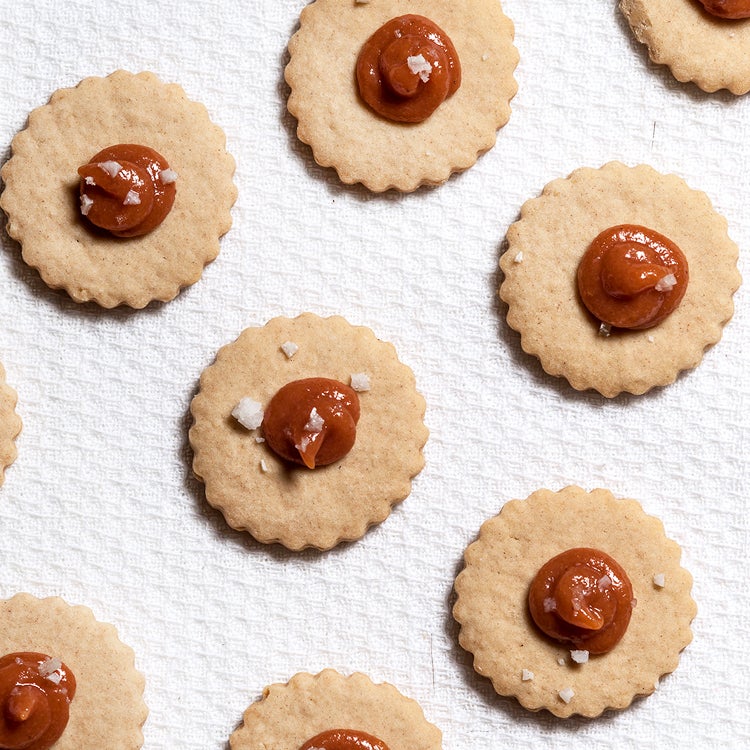 This recipe, from Gastrofotonomia blogger Manny Rodriguez, appeared in our 2012 Cookie Advent Calendar. Manny says: "Torticas de Moron are a traditional shortbread cookie from the city of Moron in central Cuba, and I've never met a Cuban that doesn't like them. I make my version with cream cheese and guava and a little sprinkle of sea salt on top that makes it very unauthentic, but yummy."
Torticas de Morón
This take on the traditional Cuban cookie is made with cream cheese and guava, with a little sprinkle of sea salt on top.
Ingredients
3 cups flour
1 1⁄2 tsp. baking powder
1 tsp. ground cinnamon
1⁄2 tsp. kosher salt
2⁄3 cup packed light brown sugar
16 tbsp. unsalted butter, softened
1 egg
1 tbsp. fresh lime juice
2 tbsp. white rum
6 oz. guava paste or jam, warmed until soft
2 oz. cream cheese, softened
Fleur de sel, for sprinkling
Instructions
Whisk together flour, baking powder, cinnamon, and salt in a bowl; set aside. In another bowl, beat sugar and butter on medium-high speed of a hand mixer until pale and fluffy, about 3-4 minutes. Add egg, and beat until smooth. Add dry ingredients, rum, and juice, and mix until just combined. Transfer to a work surface and shape into a disk; wrap with plastic wrap and refrigerate until firm, at least 2 hours or overnight.
Heat oven to 350°. Transfer dough to a floured work surface, and using a rolling pin, roll until ¼" thick. Using a 2″-wide scalloped cutter, cut out cookies, and place 2″ apart on parchment paper-lined baking sheets. Bake until edges are lightly golden, about 15 minutes. Let cool completely.
Whisk guava paste and cream cheese together in a bowl until smooth. Transfer to a plastic bag and snip off a small piece of one corner of the bag; decoratively pipe about 1 tsp. of the mixture on top of each cookie. Sprinkle with fleur de sel before serving.