Whole Striped Bass Baked in a Crust of Salt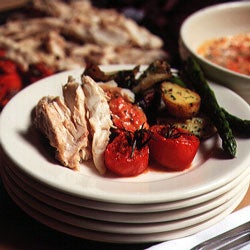 Chef Jonathan Waxman showed us how to cook striped bass in a crust of salt, which creates a vapor chamber to keep it moist. (The wild striped bass available commercially is usually smaller than that caught by sportsmen.)
Whole Striped Bass Baked in a Crust of Salt
This method of cooking a whole striped bass keeps it very moist.
Ingredients
8 egg whites
5 lb. coarse salt
1 whole wild striped bass, about 8–10 lbs., cleaned
2 lemons, sliced 1⁄4" thick
2 limes, sliced 1⁄4" thick
2 blood oranges or oranges, sliced 1⁄4" thick
1 cup fresh flat-leaf parsley leaves
3 sprigs fresh rosemary
10 fresh basil leaves
3 sprigs fresh thyme
4 sprigs fresh tarragon
6 cloves garlic, peeled and sliced
1 (2-oz.) piece ginger, peeled and sliced
Instructions
Preheat oven to 400°. Beat egg whites in a large bowl until foamy, then gradually whisk in salt until mixture is only slightly moist and has the texture of cornmeal. Line a large sheet pan with parchment paper and moisten both sides with water. (If fish is too long for pan, trim tail with scissors.) Pour enough salt mixture into pan to form a fish-size bed no thicker than 1⁄4″ when patted down.
Lay fish on salt bed and place lemons, limes, oranges, parsley, rosemary, basil, thyme, tarragon, garlic, and ginger inside the cavity and gills, being careful not to overstuff or force in the ingredients. (The idea is for the fish to return to its natural shape.) Pat remaining salt mixture around top and sides to form a crust that entirely encloses fish.
Bake 8 minutes per pound of fish. The crust should be hard and light brown. Let cool slightly, then insert a knife along edge of crust. Carefully lift off crust in 1 or 2 large pieces and pull skin away from fish. Gently remove flesh in portions and serve.