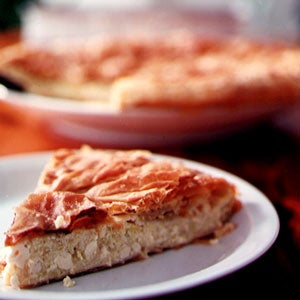 Dimitra Petrou, a home cook from Ípiros, uses homemade dough to make this savory pie. For a lighter, flakier crust, substitute commercial phyllo (see Phyllo Facts).
Zucchini Pie
Feta cheese and zucchini squash are the focus of this savory pie.
Ingredients
3 lb. zucchini, seeded if large
Coarse salt
1⁄2 lb. feta, crumbled (about 2 cups)
2 eggs, lightly beaten
1⁄4 cup milk
1⁄3 cup fine semolina
1⁄2 cup extra-virgin olive oil
Freshly ground black pepper
1 lb. Phyllo Dough
Instructions
Peel, then julienne, zucchini (this is easiest to do with a mandoline). Place in a colander set over a bowl, sprinkle with 2 tsp. salt, mix gently but well, and set aside for 30 minutes. Squeeze zucchini dry in a clean dish towel, then transfer to a large bowl.
Add feta, eggs, milk, semolina, and 2 tbsp. oil to zucchini. Season with salt and pepper, mix thoroughly, and set aside.
Divide dough into 2 6-oz. balls (about the size of tennis balls) and 2 2-oz. balls (slightly larger than golf balls). Roll out dough according to recipe, stretching larger balls to about 22" across and smaller to about 12". Brush off excess flour, then separate finished sheets with wax paper. Cover stretched phyllo with a clean dish towel to prevent sheets from drying out.
Preheat oven to 400°. Brush 1 large sheet of phyllo with oil. Place in an oiled 12" round baking pan (dough will hang over side). Repeat with remaining large sheet. Spoon zucchini mixture into pie. Trim 1 small sheet to fit pan, brush with oil, and lay over filling. Oil remaining sheet and lay over first. Fold in overhanging phyllo and pleat to form a neat crust.
Brush top of pie with oil and bake until golden, about 45 minutes. Cool for 10 minutes, invert onto a large plate, then turn onto a cutting board. Cut into wedges and serve warm or at room temperature.