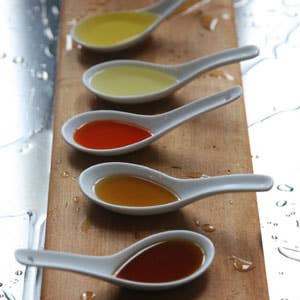 Sesame oil, whose nutty flavor has long been prized in many South Asian, East Asian, and Mediterranean cuisines, makes an appearance in several of this issue's recipes, including the Japanese fried rice and the Cypriot eggs and greens. Though all sesame oils come from sesame seeds, their character varies depending on the variety of seed used (they can be white, red, brown, or black) and the different production methods employed for making them. Broadly speaking, there are two kinds. Light-hued oils, popular in South Asian and Mediterranean kitchens, are made from white sesame seeds that have been cold-pressed at temperatures below 113˚. Dark-colored oils, favored in East Asia, are pressed from roasted white or black seeds. Here are five varieties and brands that represent the breadth of flavors this kitchen staple can exhibit.
1. In India, sesame oil is called gingelly or til; Idhayam Gingelly, a golden-hued oil available at South Asian shops, has a peanutty and slightly caramel undertone, owing to the addition of palm sugar.
2. Pale golden, light-textured Loriva Extra-Virgin Sesame Oil, a domestic, cold-pressed oil available at many gourmet markets, is similar to the kind produced in Cyprus. Clean tasting and well balanced, it's a great all-purpose oil.
3. Made with roasted sesame seeds, the orange-colored Kadoya Hot Sesame Oil, sold at Chinese, Japanese, and Korean markets, is derived from roasted sesame seeds and has a peppery punch, achieved by the addition of chiles, and tends to work better as a condiment—drizzled over steamed fish, for example—than as a cooking medium.
4. Kadoya 100 Percent Pure Sesame Oil also comes from roasted seeds (and is also sold in East Asian food stores); it has a pleasingly bitter, smoky flavor.
5. Toasted black sesame seeds are the source of another East Asian-style variety, Union Food Pure Black Sesame Oil, which has a distinctive coffee color and a bracing, tannic flavor. Union Food's general manager, Daniel Chen, calls it a "two-drop oil" because a little goes a long way.