Sautéed Eggs and Greens with Lemon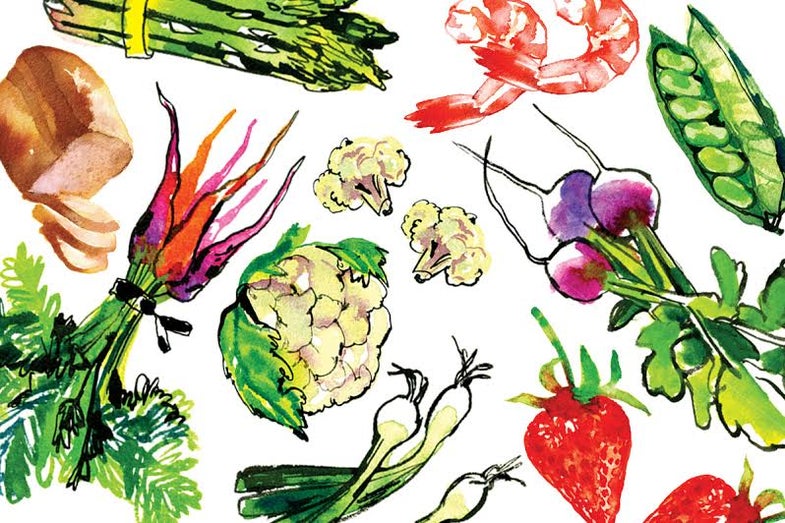 This simple dish, a favorite of home cooks across Cyprus, makes a light repast that's ideally suited to the country's hot climate.
Yield: serves 4-6
Ingredients
6 green onions
5 eggs
1⁄3 cup extra-virgin sesame oil or extra-virgin olive oil
3 garlic cloves, bruised
9 cups loosely packed arugula
1 tsp. kosher salt
3 Tbsp. roughly chopped flat-leaf parsley
1⁄2 lemon
Freshly ground black pepper
Instructions
Trim a few inches off the top of the onions; each onion should measure about 6″ long. Halve green onions lengthwise; cut each half crosswise into 1⁄8″-thick strips. Set aside.
Crack eggs into a bowl. Heat oil in a 12″ nonstick skillet over high heat. Add onions and garlic; cook, stirring frequently with a spatula, until lightly browned, about 4 minutes.
Add arugula and salt; stir, until greens are wilted, about 1 minute. Quickly add eggs and parsley; stir vigorously to break up yolks and whites. Let cook, undisturbed, for 30 seconds. Break eggs up a bit with a spatula. Let cook until set, about 30 seconds more.
Transfer to a bowl, squeeze juice of the lemon over top, and sprinkle with pepper.