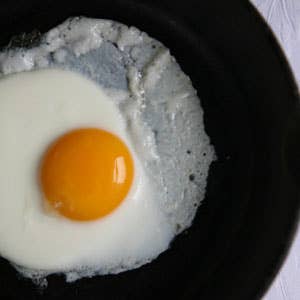 The sunny-side-up egg is the symbol par excellence of the traditional American breakfast, and no wonder: this preparation showcases better than any other the egg's inner beauty. The act of making this dish is a simple one, and yet the achieving of evenly cooked eggs with unbroken yolks calls for a careful touch. This simple recipe makes use of a couple of methods to ensure that the eggs cook to perfection without sticking or burning.
1. Crack 1 egg into a small bowl.
2. Grease an 8" nonstick skillet with 1 tbsp. unsalted butter and heat over medium-low heat until the butter just begins to foam, about 1 minute. (If cooking 2 eggs, follow the same process using a 10" nonstick skillet.) Gently slide the egg into the skillet and cook until the white just begins to set on the bottom of the pan, 3-4 minutes.
3. Cover and continue to cook until the white is completely set and the yolk becomes firm but remains shiny and bright yellow, about 1 more minute.
4. Using a rubber spatula, gently slide the cooked egg onto a plate. Serves 1.