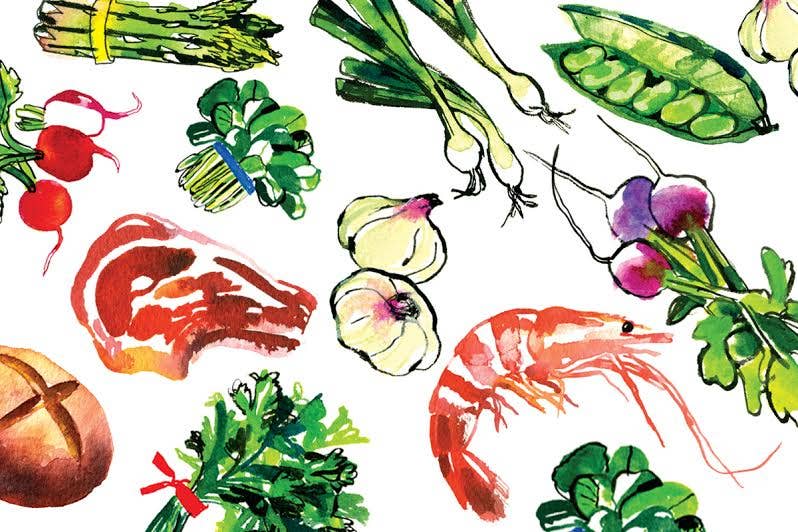 In order to make duck confit, you will first need to render duck fat. Lest you think we've gone too far—next we'll have you gavaging geese—trust us. There's a delicious gain to be had: The process lets you make fritons (also called grattons), those irresistible crisp nuggets of duck-skin cracklings, to be salted and nibbled or sprinkled in salads.
1. To render 4 cups of duck fat, preheat oven to 350°. Remove the skin and any fat from 1 pekin or moulard duck and cut into 1/2" x 4" strips in a baking pan. Bake for approximately 3 1/2 hours, until skin is golden. Drain on paper towels and strain fat through cheesecloth. Fat can be stored frozen for up to 6 months.
2. To render your own duck fat, and process as directed below. (If you have another source for duck fat, you can leave the skin on and proceed.) Cut the bird in half lengthwise, creating two legs with thighs attached, two wings (remove the tips), and two breasts (which can be reserved for another use).
3. Place the duck pieces in a nonreactive pan and sprinkle 4 tbsp. sea salt crystals on all sides of the bird. (We prefer these slow-dissolving crystals, which cure the meat without making it too salty.) Cover with plastic wrap and refrigerate overnight. The next day, brush away as much salt as possible with a paper towel (some will have dissolved).
4. Melt 5-6 cups duck fat in a saucepan over low heat. When the fat reaches 200°, barely simmering, add duck and simmer, completely submerged, until tender, about 2 hours. Remove from heat, cool, and refrigerate the duck, completely immersed in the duck fat, in a clean container. The flavor will improve for a week; the confit will keep for at least a month.