The 23 Best Bistros in Paris
A guide to the 23 best bistros in Paris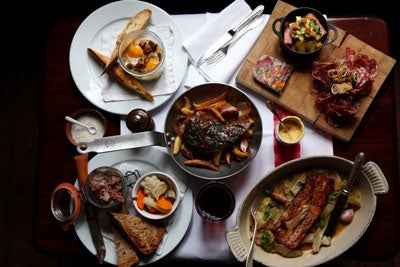 I'm a dyed-in-the-wool fan of old-fashioned Paris bistros, most of which are located in the heart of the city. But I also love the new generation of contemporary bistros that have opened within the last ten years or so, many of which can be found in quiet residential arrondissements, like the 11th and 15th, that are quite a hike from the city center—and are well worth the journey for their innovative and typically reasonably priced menus. Below, a guide to my favorite Paris bistros, old and new. Dinner for two with drinks and tip runs about $80 at the inexpensive places; $100 to $140 at the moderate ones; and as much as $200 at the expensive establishments.
Photo Gallery: The Best Bistros in Paris
1. Afaria 15 rue Desnouettes, 15th arrondissement (33/1/4856-1536). Inexpensive. This two-year-old bistro is the brainchild of chef Julien Duboue, who trained with such top toques as Paris's Alain Dutournier and New York's Daniel Boulud. The menu changes often but runs to delicious Basque-Landais dishes like cold artichoke soup, fried baby squid, and sea bream with a "spaghetti paella."
2. Allard 41 rue St-Andre des Arts, 6th arrondissement (33/1/4326-4823). Expensive. Established in 1931, this remains one of the city's most beloved old-guard bistros, and for good reason. Dishes like escargots in parsley butter, house foie gras terrine, and roast duck with olives are top-notch.
Recipe: Escargots a la Bourguignonne (Snails in Garlic-Herb Butter)
Recipe: Canard aux Olives (Roast Duck with Olives)
3. L'Ami Jean27 rue Malar, 7th arrondissement (33/1/4705-8689). Moderate. Chef Stephane Jego, who worked under bistro wizard Yves Camdeborde, founder of La Regalade (see Article: The New Bistro), serves market-driven southwestern French and Basque cooking. Don't miss the ravioli stuffed with roast pork and mushrooms, and the wild salmon steak with baby squid.
4. L'Ami Louis 32 rue Vertbois, 3rd arrondissement (33/1/4887-7748). Expensive. Come to this temple of classic bistro cuisine for generous portions of garlicky, crunchy potato galette, grilled veal kidneys, whole roast chicken with heaps of frites, and tender milk-fed lamb.
Recipe: Galette de Pomme de Terre (Potato Galette)
Recipe: Poulet Roti (Roast Chicken)
Recipe: Bistro Pommes Frites (Bistro French Fries)
5. Auberge Pyrenees Cevennes 106 rue de la Folie-Mericourt, 11th arrondissement (33/1/4357-3378). Moderate. This is a terrific example of a good old-fashioned neighborhood bistro, with sausages dangling from huge beams overhead and antlers mounted on the walls. Expect friendly service, reasonable prices, hearty dishes like cassoulet and veal sweetbreads in port sauce, and Lyonnais specialties such as quenelles de brochet.
6. Aux Lyonnais 32 rue St-Marc, 2nd arrondissement (33/1/4296-6504). Moderate. Since taking over this famous old bistro in 2002, Alain Ducasse has artfully updated the menu while preserving the soul of the bistro. Lighter dishes like cervelle de Canut—a fresh, soft cheese whipped with herbs and shallots—and poached haddock with lentils in vinaigrette prevail, but there are still plenty of hearty Lyonnais classics.
7. Le Baratin 3 rue Jouye-Rouve, 20th arrondissement (33/1/4349-3970). Inexpensive. This small, crowded bistro in Belleville, one of the last bohemian neighborhoods in Paris, is a major expedition from the city center, but that hasn't stopped it from becoming the place where chefs like Joel Robuchon and Yves Camdeborde come for a night-off feast of chef Raquel Carena's fabulous home-style cooking. The daily-changing menu ranges from oxtail braised with citrus fruits to ragout of cod and shrimp with saffron.
8. Le Bistrot Paul Bert 18 rue Paul Bert, 11th arrondissement (33/1/4372-24-01). Moderate. Chef Thierry Laurent serves some of the best terrine de campagne in Paris at this genial new bistro. Also very good: entrecote with bone marrow and french fries, duck with pears, and beef cheeks braised in red wine.
Recipe: Joues de Boeuf Confites (Braised Beef Cheeks)
9. Le Chateaubriand 129 avenue Parmentier, 11th arrondissement (33/1/4357-4595). Moderate. The first time I ate chef Inaki Aizpitarte's cooking, it knocked me out, and he's only gotten better since he set up shop at this sepia-toned former grocery store. Aizpitarte's globally influenced "cuisine de vagabonde" exhibits stunning imagination, as in dishes like sea bass with red chicory and lemon creme fraiche.
10. Chez Denise 5 rue des Prouvaires, 1st arrondissement (33/1/4236-2182). Moderate. This bistro, also known as La Tour de Monthlhery, serves trenchermen's portions of headcheese, charcuterie, roasted marrowbones, and rib steaks with fabulous frites until 5:00 a.m. Boisterous, friendly, and completely Parisian.
11. Chez Dumonet/Josephine 117 rue du Cherche-Midi, 6th arrondissement (33/1/4548-5240). Moderate. This 112-year-old bistro, located in a stunning 19th-century space, serves dishes like morel mushrooms stuffed with foie gras, truffles, and country ham; a sumptuous mille-feuille of boned pigeon and crisp sliced potatoes; and one of the best boeuf a la bourguignonnes in Paris. End with the Grand Marnier souffle.
12. Chez Georges 1 rue du Mail, 2nd arrondissement (33/1/4260-0711). Moderate. Time stands still at this century-old bistro in the heart of Paris that serves bistro classics like blanquette de veau (veal breast served with a lemony cream sauce), chicken liver terrine, and wonderful cream puffs with hot chocolate sauce.
13. Chez Michel 10 rue de Belzunce, 10th arrondissement (33/1/4453-0620). Moderate. Since it's one of her favorite restaurants, yes, that gorgeous blonde in the corner at this vintage bistro near the Gare du Nord just might be Catherine Deneuve. Aptly named chef Thierry Breton's Breton-inspired cooking is reliably delicious, with dishes like kig ha farz (a stew of pork and veal served with buckwheat stuffing), great game in season, and one of the best Paris-Brest pastries (a ring of choux pastry filled with hazelnut cream) in town.
14. Le Cochon a l'Oreille 15 rue Montmartre, 1st arrondissement (33/1/4236-0756). Moderate. In the old market district of Les Halles, a diverse crowd of happy Parisians packs into this 97-year-old bistro's compact Belle Époque dining room to tuck into dishes like confit de canard and stuffed pork with lentils.
15. L'Ecailler du Bistrot 22 rue Paul Bert, 11th arrondissement (33/1/4372-7677). Moderate. Sister restaurant to Le Bistrot Paul Bert (see No. 8), this may be the best seafood-oriented bistro in Paris, with impeccable fish at reasonable prices. Try briny Utah Beach oysters from Normandy or a terrific line-caught grilled sole with baby potatoes sauteed in salted butter and fresh tarragon.
16. L'Epigramme 9 rue de l'Eperon, 6th arrondissement (33/1/4441-0009). Moderate. This tiny place has been a hit ever since it opened two years ago. Chef Pierre Neveuserve's first-rate contemporary French bistro cooking includes dishes like braised veal with roasted artichokes and duck filet in a jus of blackcurrant liqueur with a side of new potatoes.
Recipe: Tendron de Veau avec Artichauts (Braised Veal Breast with Artichokes)
17. La Fontaine de Mars 129 rue St-Dominique, 7th arrondissement (33/1/4705-4644). Moderate. This popular, well-mannered bourgeois bistro with lace curtains, red-checked tablecloths, and wry but polite waiters always gets it just right, with a superb roster of good old-fashioned Gallic food, including marinated leeks, seared foie gras with pears, sole meuniere, and duck breast with olives and eggplant caviar, plus a roster of daily specials like roast chicken and roast lamb.
18. Frenchie 5 rue du Nil, 2nd arrondissement (33/1/4039-9619). Moderate. The brilliant market-menu cooking of chef Gregory Marchand features cosmopolitan dishes like crab-stuffed ravioli with parsley juice and shellfish, roast shoulder of lamb with eggplant, spinach and pickled lemon, and tapioca with coconut shavings, wild strawberries, and coriander.
19. Le Hide Koba's Bistro 10 rue de General Lanrezac, 17th arrondissement (33/01-4574-1581). Moderate. Near the Arc de Triomphe, chef Hide Kobayashi's bistro offers an impeccable take on traditional French bistro cooking with letter-perfect versions of such classic dishes as tarte d'escargots, celery root remoulade with marinated salmon, beef entrecote, and creme brulee.
Recipe: Celeri-Rave Remoulade (Celery Root Remoulade)
20. Jadis 208 rue de la Croix-Nivert, 15th arrondissement (33/1/4557-7320). Moderate. In French, the name of this popular two-year-old bistro means "in times gone by," a nod from talented young chef Guillaume Delage to France's rich culinary heritage. Delage serves a menu that veers between contemporary French bistro cooking—including dishes like escargots in puff pastry with oyster mushrooms and romaine lettuce, and sea bream in a wasabi cream sauce with sweet potato puree—and stalwarts like roast shoulder of lamb with white beans, tomatoes, and black olives.
21. Le Quincy 28 avenue Ledru-Rollin, 12th arrondissement (33/1/4628-4676). Inexpensive. This funky, old-fashioned space near the Gare de Lyon features pure bistro cooking, including dishes like cold beef-muzzle salad, farmhouse terrine with a garlicky cabbage salad, rich goose cassoulet, and rabbit cooked in white wine and shallots.
22. La Regalade Saint-Honore 123 rue St-Honore, 1st arrondissement (33/1/4221-9240). Moderate. At this new branch of La Regalade (see (see Article: The New Bistro), chef Bruno Doucet's menu has been a phenomenal hit ever since it opened seven months ago. The fresh tasting and precisely executed cuisine du marche includes dishes like free-range Basque pork belly on a bed of lentils and cod steak with wilted spinach, chopped hard-boiled egg, tomatoes, and tiny croutons in a light vinaigrette. Smaller and with a more modern decor than the original location (at 49 avenue Jean-Moulin, 14th arrondissement), but every bit as good.
23. Restaurant du Marche 59 rue de Dantzig, 15th arrondissement (33/1/4828-3155). Moderate. At the very edge of Paris, chef Francis Leveque has turned this snug dining room with bare wood tables and bric-a-brac decorating the walls into one of the city's best bistros. The menu changes regularly, but dishes like baked potatoes stuffed with escargots, grilled pork terrine with a perfect mesclun salad, and a sublime hachis Parmentier (a French version of shepherd's pie) with duck confit are stunningly good.
Where to stay in Paris:
Hotel Bel-Ami 7-11 rue St-Benoit, 75006 Paris (33/1/4261/5353)
Marriott Renaissance Arc de Triomphe 39 Avenue de Wagram, 75017 Paris (33/1/5537/5537)
Four Seasons Hotel George V Paris 31, avenue George V, 75008 Paris (33/1/4952/70 00)
Return to: