Recipes
Tendron de Veau avec Artichauts (Braised Veal Breast with Artichokes)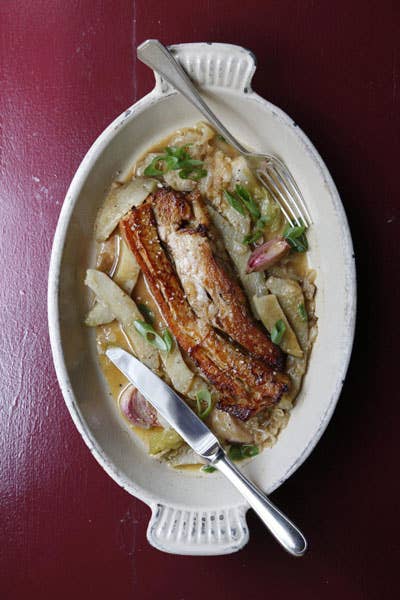 We based the recipe for this elegant braise of caramelized veal ribs served with sauteed artichoke hearts on one from chef Frederic Thevenet of Aux Lyonnais. To make it, ask your butcher to cut a bone-in veal breast into six individual ribs and reserve the trimmings.
Ingredients
1 bone-in breast of veal cut into 6 ribs (about 6 lbs.), plus trimmings
Kosher salt and freshly ground black pepper, to taste
4 tbsp. unsalted butter
4 tbsp. extra-virgin olive oil
12 cloves garlic, unpeeled and lightly crushed
5 sprigs fresh thyme
5 fresh sage leaves
4 yellow onions, chopped
2 ribs celery, chopped
1 sprig fresh rosemary
4 lbs. tomatoes, quartered, or two 28-oz. cans whole peeled tomatoes, drained
2 cups white wine
4 cups veal stock
4 large trimmed artichoke hearts with stems
Juice of 1 lemon
4 scallions, green parts only, thinly sliced, for garnish
Instructions
Step 1
Heat oven to 275˚. Season veal with salt and pepper. Tie each rib crosswise with three lengths of kitchen twine spaced 1"-2" apart and trim excess twine with scissors. Melt butter and 2 tbsp. oil in an 8-qt. Dutch oven over medium-high heat. Working in batches, add veal ribs and trimmings and cook, turning occasionally, until well browned. Transfer veal to a plate, reserving liquid in pot.
Step 2
Return pot to medium-high heat; add garlic, thyme, sage, onions, celery, and rosemary and cook, stirring occasionally, until browned, about 10 minutes. Add tomatoes and cook, stirring, for 5 minutes. Add wine and boil until reduced to 1 cup, about 10 minutes. Add reserved veal ribs and trimmings, and any juices from the plate, along with veal stock. Bring to a simmer, cover, and bake until veal is tender, about 2 hours.
Step 3
Transfer veal to an aluminum foil-lined baking sheet; set aside. Skim fat from surface of cooking liquid. Set a fine strainer over a 4-qt. saucepan; strain cooking liquid. Reserve garlic and discard remaining solids. Bring cooking liquid to a boil, reduce heat to medium-high, and simmer until liquid has thickened and coats the back of a spoon, about 30 minutes. Season sauce with salt; keep warm.
Step 4
Meanwhile, put artichokes and lemon juice in a large pot of salted water. Bring to a boil, reduce heat to medium-low, and simmer until artichokes are just tender, 12-15 minutes. drain artichokes and let cool; slice lengthwise into 1⁄4"-thick strips. In a 12" skillet, heat remaining oil over medium heat. add artichokes and saute until golden brown, about 5 minutes. Remove pan from heat and season artichokes with salt; keep warm.
Step 5
To serve, heat oven to broil and arrange a rack 6" from broiler element. Brush veal with some of the sauce, transfer to oven, and broil until caramelized, 3-5 minutes. Using a spatula, divide veal between 6 serving plates and spoon some of the sauce over top of each. Arrange artichokes and reserved garlic around veal and garnish with scallions.
Pairing note: Sandalwood and tart cherry flavors in the Littorai The Haven Sonoma Coast Pinot Noir 2007 ($50) pair beautifully with the tender veal.