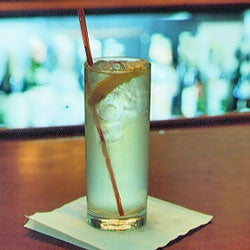 The original "French 75" was a 75-mm French artillery piece used in World War I. The drink of the same name was first made with cognac; the British introduced gin into the mix.
Yield: makes 1 Cocktail
Ingredients
Pinch sugar
Dash sweet and sour mix
3⁄4 oz. dry gin
3⁄4 oz. French brandy (not cognac)
Club soda
2 oz. champagne
Slice of lemon
Instructions
Put sugar into a tall glass and fill halfway with ice cubes. Add sweet and sour mix, gin, and brandy.
Fill the glass to within 2″ of the top with club soda, then float in champagne. Garnish with a lemon slice.