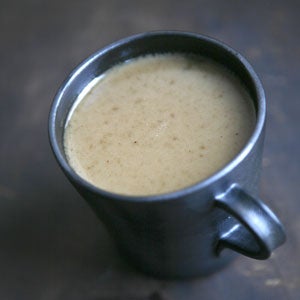 Hot buttered rum is part of an American colonial tradition in which flavorful ingredients, such as molasses, were added to soften the harsher rum available in years past. This is an adaptation of a recipe that appears in Trader Vic's Bartender's Guide (Doubleday, 1972).
Yield: serves About 16
Ingredients
3⁄4 lb. softened butter
1 cup dark brown sugar
1⁄4 tsp. freshly grated nutmeg
1⁄4 tsp. ground cinnamon
1⁄4 tsp. ground cloves
Salt
24 oz. aged rum (rhum vieux)
Instructions
Beat butter and sugar in a bowl with an electric mixer until fluffy. Add nutmeg, cinnamon, cloves, and a pinch of salt and beat again to combine. Chill buttered rum base until ready to use, up to 2 weeks.
To make 1 hot buttered rum, put 2 heaping tbsp. of the buttered rum base and 1 1⁄2 oz. of the rum into an 8-oz. mug and fill with boiling water. Stir to melt and mix; serve at once.