Sherwood Estate (New Zealand) Pinot Noir; Adam, Alsace (France) Gewürztraminer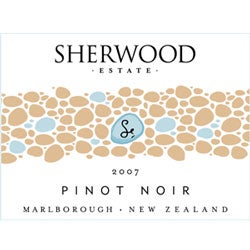 Why not offer your guests a choice of red or white with this wine-friendly open house menu?
**Stilton And Bacon Cheesecakes
Grated Carrot Salad
Baked Country Ham
Johnny Schmitt's Potato Gratin
Gingerbread Cake With Caramel Icing
**
Look for a white with enough heft to stand up to the hearty cheesecakes, and a red that won't overwhelm the baked ham.
Here are two suggestions:
Adam, Alsace (France) Gewurztraminer "Reserve" 2006
Imported by Billington, $24
Dry gewurztraminer, with its rose petal and concentrated exotic fruit flavor, can be a delicious partner with ham. Many of the best come from Alsace in northeastern France.
Sherwood Estate, (New Zealand) Pinot Noir
Imported by Southern Starz, $17
Good Kiwi pinot noirs avoid the excessive sweetness that mars so many American renditions of this super-trendy varietal. This one offers exceptional value.