Spiced Ginger–Palm Sugar Drink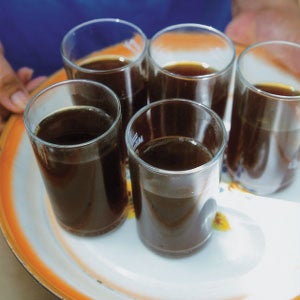 (Teh Halia)
Gula jawa (Indonesian palm sugar), which gets its slightly smoky taste from the fire over which the sugar is processed, becomes mushy (and easy to measure) when sliced.
Spiced Ginger–Palm Sugar Drink
In this drink the smoky sweet flavor of the palm sugar melds perfectly with the zesty fresh ginger.
Ingredients
1 (2″) piece ginger
3 sticks cassia
3 whole cloves
1⁄2 cup gula jawa (or dark brown sugar)
Instructions
Peel ginger and bruise it with the smooth side of a meat mallet until it becomes juicy. Put the ginger, 4 1⁄2 cups water (preferably filtered or spring), cassia sticks, and cloves into a medium pot and bring to a boil over high heat. Reduce the heat to medium-low and simmer gently, partially covered, until the spices thoroughly infuse the water, 8–10 minutes. Add gula jawa and stir well until dissolved.
Remove the pot from the heat, strain the liquid through a sieve, and discard the solids. Serve warm, at room temperature, or over ice.