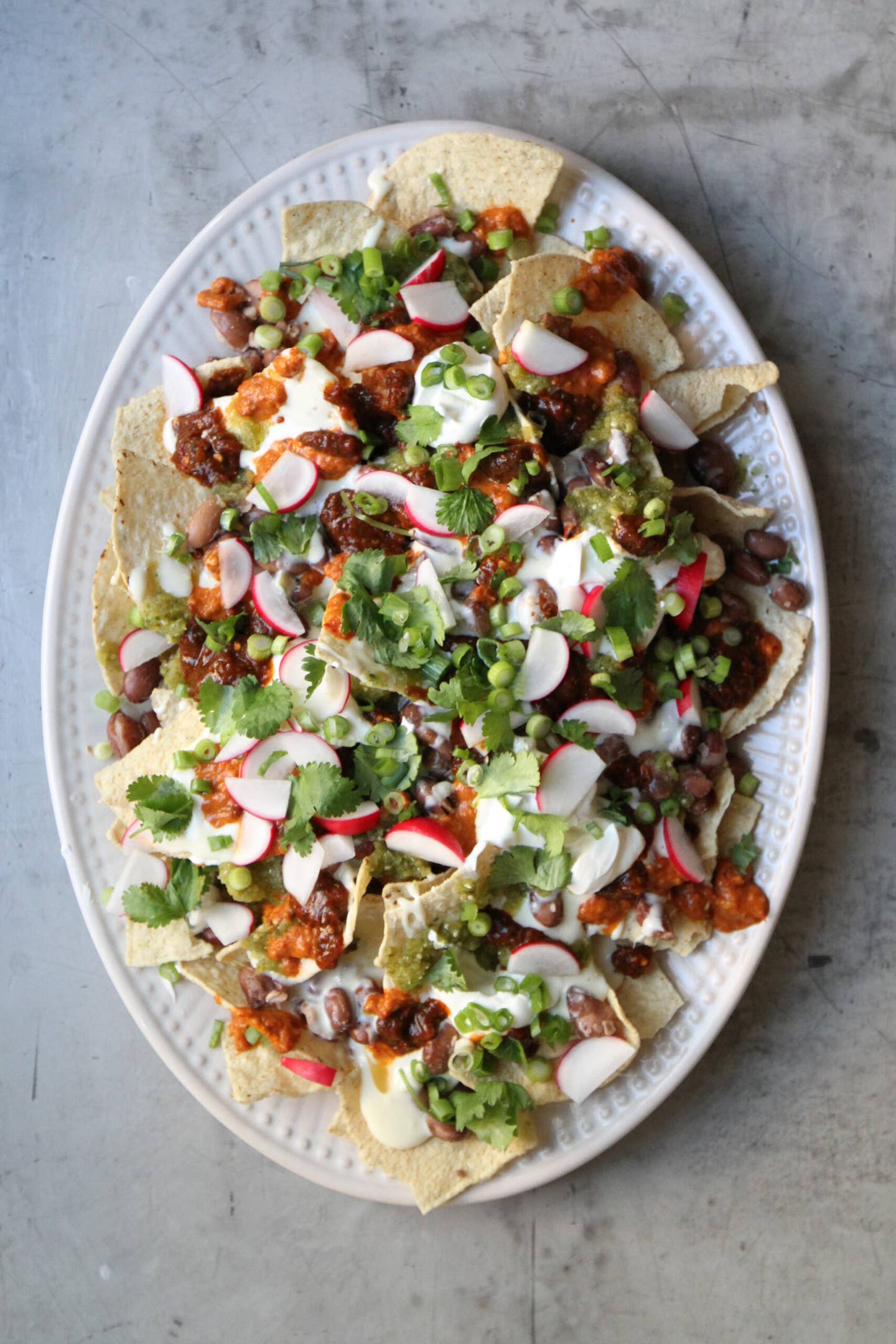 Recipes
The Best Homemade Nachos are All About the Sauce
At the Commodore in Brooklyn, New York, Stephen Tanner serves heaping plates of aptly-named Cadillac Nachos, laced with house-made queso sauce and three types of salsa. They're completely irresistible, and totally achievable at home. Here's why you should serve them for your Super Bowl party—or any party, for that matter.
At their worst, nachos are good. They fill a very specific need: For crunch and salt and something that asks to be washed down with cold, unfussy beer. Like pizza and George Clooney, they have the power to unite all walks of life in agreement.
At their best, nachos are a feat of architecture, an exercise in layering and piling on and balancing crunch with pleasant levels of sog. At The Commodore in Brooklyn, Stephen Tanner has mastered the craft.
I once lived a hop and a skip from The Commodore, and used it—and Tanner's nachos—as incentive to corral groups of people to come to me. It's easy to convince friends, acquaintances, and potential mates to spend time with you when it's over a wide plate of fried tortilla chips, white cheese sauce, scratch-cooked beans, a trio of house salsas, and enough crunchy radishes and cilantro and green onions to keep everything from sinking into mush.
If you're willing to do the legwork, they're attainable at home. If you're hosting any sort of Super Bowl party, you'll be wise to use these as your selling point.
Yes, you can make nachos simply by layering shredded cheese with chips, then baking them until bubbly. But wait five minutes and they congeal, seize up, become unappealing. The brilliance of Tanner's "Cadillac Nachos" is their rejection of the shredded cheese impulse. The queso will never turn against you; it simply melds with its neighboring sauces to create what a date of mine once called a "fortress of goo." (This phrase is his best and only legacy.)
And the queso is simple: just American cheese (pre-sliced, "the crappy kind," because according to Tanner "the fancy stuff will break"), whole milk, and chopped pickled jalapeños. Over low heat, they fuse together. Over nachos, they are magic.
Tanner spends a good bit of time sitting on a bench in front of his bar. People will walk past at 9 AM and ask him why he's there, not used to a bar that thinks about food prep the way a well-run restaurant might. He claims that slicing radishes for Friday night service takes him on average two hours.
"I was out front one night and a group of people walked by and they ran into some friends coming out," he recently told me. When asked about the food, someone from the departing party said, "The nachos are great, but it's nachos—it's not really cooking."
"I guess people think we use freeze-dried kits and sprinkle fairy dust on them."
These nachos might not feel like cooking the way that standing over a pot of chili, or bracing yourself against the potential bodily harm that fried chicken can inflict, will. But like the best of cooking, it will silence a crowd, even a rowdy crowd of sportsfans, for as long as it takes them to tear through a plate. Their enthusiasm is worth your extra effort. I suggest you buy more chips than you think you'll need. Go team.