Bittersweet Chocolate Pudding Cakes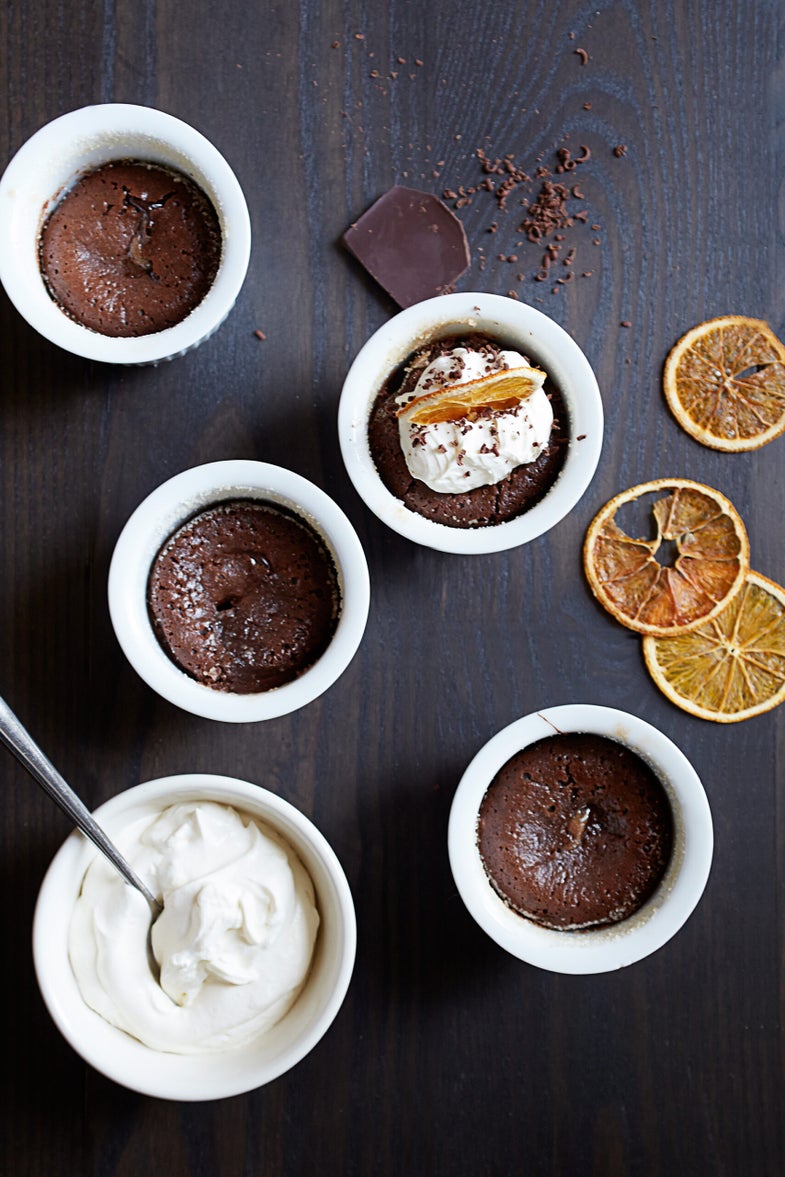 We like Valrhona's 85% cacao bar in this recipe from Anna Watson Carl's cookbook The Yellow Table; its slight bitterness is a perfect complement to lightly sweetened Grand Marnier whipped cream. Don't stress about serving these right out of the oven—in fact, they're better at room temperature.
Bittersweet Chocolate Pudding Cakes
Bittersweet chocolate pudding cakes are the perfect dessert for a winter dinner party.
Ingredients
1 cup heavy whipping cream
2 tbsp. confectioners' sugar
3 tbsp. Grand Marnier (or other orange-flavored liqueur)
8 tbsp. unsalted butter, plus more for greasing
1⁄2 cup granulated sugar
4 oz. good-quality bittersweet chocolate (preferably Valrhona), coarsely chopped, plus shavings for garnish
2 eggs, plus 2 yolks
Instructions
Using a hand mixer, beat cream, confectioners' sugar, and Grand Marnier in a bowl until stiff peaks form; refrigerate until ready to use.
Heat oven to 450°. Grease four 6-oz. ramekins with butter and coat with half the granulated sugar; place on a baking sheet. Melt butter in a 4-qt. saucepan over low; add chocolate and let sit for 2–3 minutes. Stir until chocolate has completely melted; cool slightly.
In the bowl of a stand mixer fitted with a paddle attachment, combine remaining granulated sugar, the eggs, and yolks; beat on medium until thickened and pale, 3–5 minutes. Slowly add the melted chocolate mixture, whisking until combined. Divide the mixture among ramekins and bake until just set, about 8–10 minutes. The tops will puff up slightly like soufflés but the centers will be deliciously soft and gooey. Cool on a rack for 10–15 minutes before serving, or bake before dinner and serve at room temperature.
To serve, arrange ramekins on dessert plates and top with whipped cream; garnish with chocolate shavings.