Recipes
Butter-Fried Catfish
This sustainable fish only needs a quick pan-fry in butter.
Serves

serves 4

Cook

10 minutes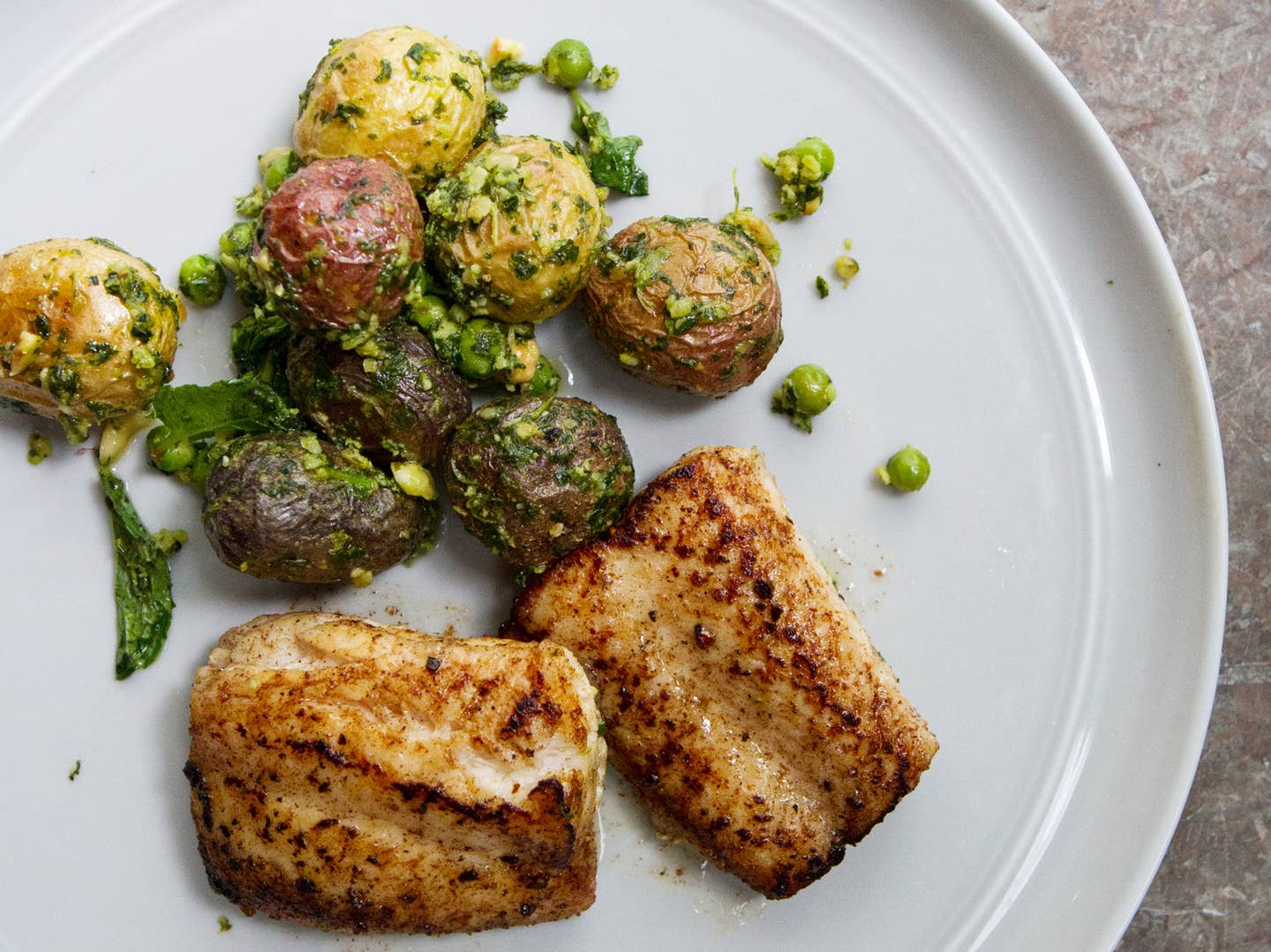 Growing up in the Chesapeake Bay area, we are taught from a young age different initiatives to help in preserving the bay. After speaking with Steve Callahan, the Global Seafood Gulf Port Buyer for Whole Foods, I learned that blue catfish is available Nationwide in all Whole Foods Markets. Coming from Maryland, I knew a bit about blue catfish, and Steve was able to refresh my memory a bit; it was first introduced to the James River in the 1970's for sport fishing, and quickly began migrating around the Bay's tributaries to areas that it was not really meant to, growing in population along the way, and disrupting the fragile ecosystem that is the Chesapeake Bay. Blue crabs and striped bass were some of the species effected (and we all know that in Maryland, you don't mess with our crabs). All of this meant, however, that blue catfish were now in abundance, and considered an invasive species, thus actually making them sustainable. Now available around the United States, this incredibly affordable white fish is my favorite choice for dinner– its meaty, yet subtle in flavor, making it quite versatile in preparation. Broil it, grill it, or pan-fry it in butter, as I do here. I particularly love to eat it with this super simple mint pesto pea and potato salad; its particularly great with the warmer weather, though I think it would hold up quite nicely in a fish stew come winter. My favorite thing about this blue catfish? In buying it, I feel like, even though I'm not living in Maryland, I'm still doing something little to help save the bay. Buy blue catfish fresh for dinner from your local Whole Foods Market.
Ingredients
4 tbsp. unsalted butter
Kosher salt and freshly ground black pepper
Four 6-oz. skinless blue catfish fillets, patted dry with paper towels
1 Lemon wedges, for garnish
Instructions
Step 1
In a large skillet set over medium-high heat, melt the butter. Meanwhile, season the catfish generously with salt and black pepper. When the foam subsides, add the catfish to the pan and cook, flipping once, until golden, flaky, and nearly opaque, 3–4 minutes. Serve with lemon wedges.