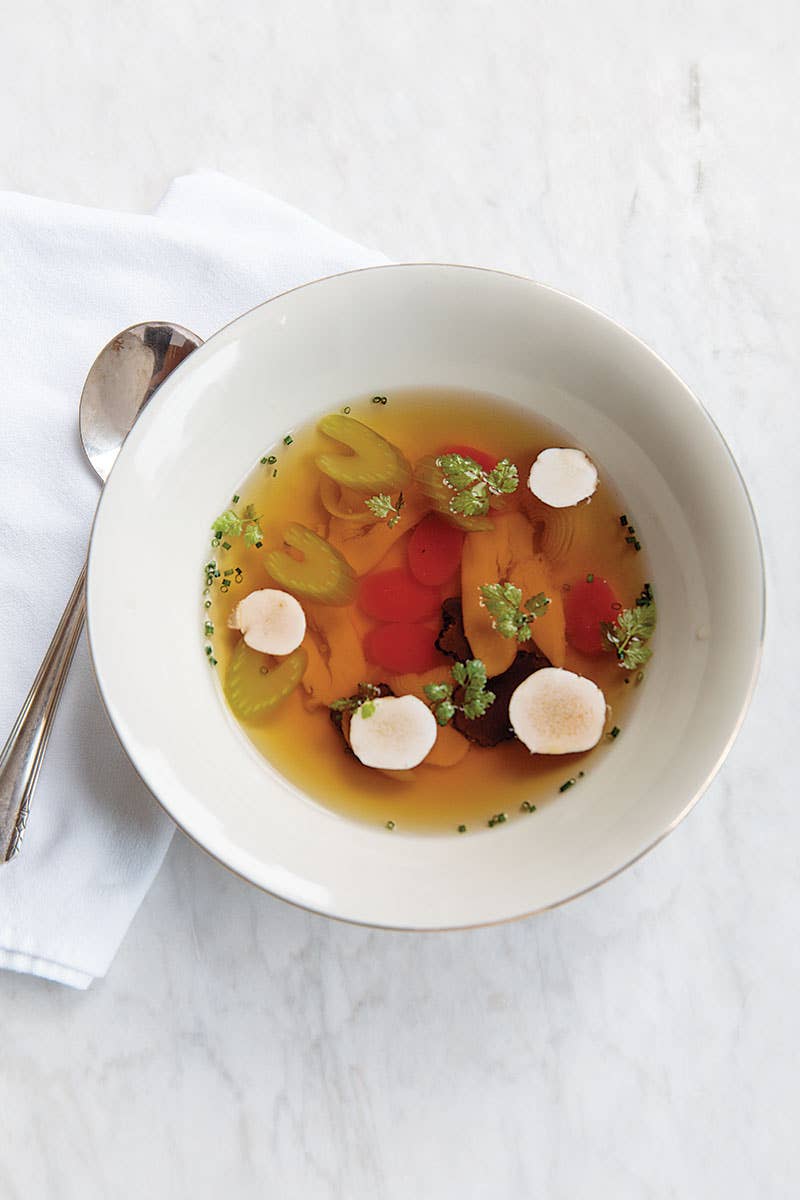 Techniques
Clear as Day
Patience and impeccable ingredients are all it takes to make consommé, the canonical—and most elegant—French soup
As an apprentice in France, the first thing you learn to make is the beautifully translucent soup called consommé. It is the highest sophistication of stock, a pillar of French cuisine. I was 14 years old when I first prepared it, at Lyon's late, great restaurant Nandron, and I was afraid the bottom would burn or the liquid stay cloudy. But once I learned how to do it, it was easy.
The magic of consommé is that although it is crystal clear, it is incredibly flavorful, the result of concentrating a stock and then clarifying it with egg whites. This cooking innovation, a simple scientific technique, was harnessed centuries ago and first codified in François Pierre de la Varenne's 1651 cookbook, Le Cuisinier François. It starts with a "raft"—egg whites mixed with minced meat and vegetables. The raft has a dual purpose: to clarify the liquid and to boost its flavor. As the stock heats up, the egg white proteins coagulate, forming a web that catches particles as they bubble to the top. It's important not to boil it too rapidly, as the fat will emulsify and combine with the liquid, muddying the pot. When the steps are done properly, the result is sparkling.
Consommé is an incredibly versatile dish that can be made with almost any protein. Years ago at Le Cirque, I served a chilled lobster version in the summer. And one of the most famous incarnations is chef Paul Bocuse's black truffle soup V.G.E. A beef consommé with vegetable mirepoix, foie gras, sweetbread, and truffle, all covered in burnished puff pastry, it is served at his restaurants near New York and Lyon. But even the most basic chicken consommé is a thing of beauty. The amber liquid, deeply amplified with poultry flavor, can be served alone or ladled over poached meat and vegetables, embellished with truffle and fresh herbs.