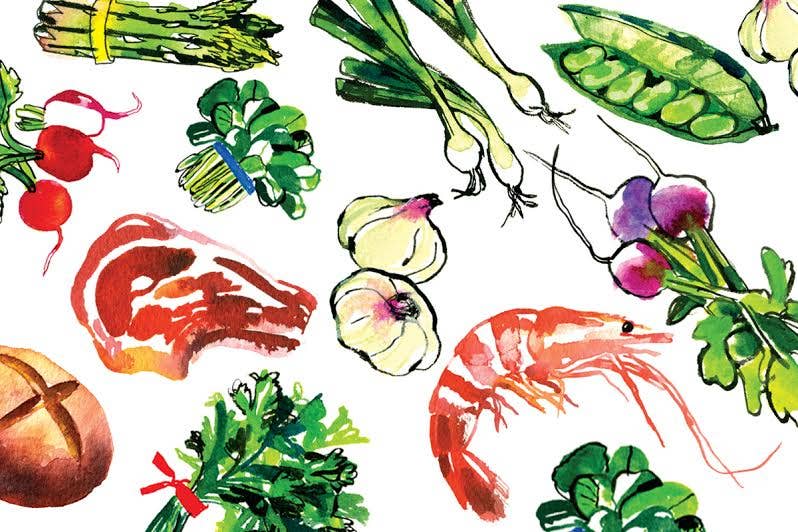 Recipes
Kohlrabi, Carrot, and Raisin Chutney
Carrots and raisins complement the crisp, nutty nature of kohlrabi in this beautiful chutney.
3½ oz. tamarind paste
¼ cup vegetable oil
1 tbsp. coriander seed
1 tbsp. cumin seed
1 tsp. ground fenugreek
1 tsp. ground cinnamon
2 tbsp. ginger, peeled and minced
1 cup apple cider vinegar
6 dates, pitted and minced (about ¾ cup)
1 cup raisins
1 tsp. kosher salt
1½ cups kohlrabi, diced to the size of a raisin
1 cup carrots, diced to the size of a raisin
1 cup red onion, diced to the size of a raisin
1. Soak the tamarind in ½ cup boiling water while you prepare the vegetables; about 15 minutes. When soft, mash it into a puree and strain out the seeds and pods. Or, if you're starting with ready-to-use tamarind puree, begin with ½ cup.
2. In the bottom of a medium Dutch oven, combine the oil with the coriander, cumin, fenugreek, cinnamon, and ginger. Place over medium heat until dark brown and fragrant, stirring continuously, about 5 minutes. Add the tamarind puree, vinegar, dates, raisins and salt, continuing to stir to break up the dates. Let the mixture bubble about 3-4 minutes more to let the raisins plump and allow the brine to thicken slightly. Add the kohlrabi, carrot, and onion; stir to coat completely, and let the chutney boil for one minute more. If canning, pour the chutney into sterilized jars and hot water bath process for 15 minutes. If refrigerating, let the chutney cool, pack it into airtight glass or ceramic containers (plastic may retain odors) and keep refrigerated. The chutney can be eaten after 24 hours but it's even better after 3 days.