Recipes
Kroppkakor (Swedish Potato Dumplings Stuffed with Bacon and Onion)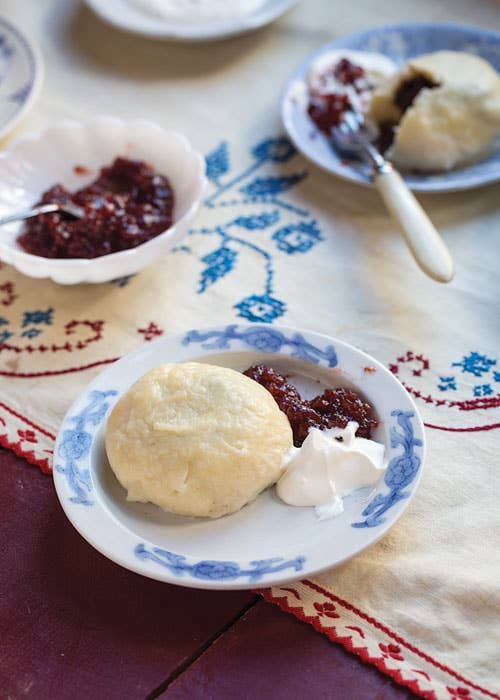 Swedish kroppkakor, hearty mashed potato dumplings stuffed with an allspice-laden filling of bacon and onion, are a specialty of Oland, an island off the southern coast of Sweden. They're traditionally enjoyed with sour cream to boost their richness and lingonberry preserves, which lend acidity and sweetness. This recipe first appeared in our June/July 2014 issue with Per Styregård's story "A Midsummer's Dream."
Ingredients
3 lb. russet potatoes, peeled and cut into 1" pieces
2 1⁄2 cups flour, plus more for dusting
2 eggs, plus 1 yolk
Kosher salt, to taste
1 tbsp. olive oil
1 lb. sliced bacon, roughly chopped
1 large yellow onion, minced
1 tbsp. ground allspice
Lingonberry preserves and sour cream, for serving
Instructions
Step 1
Boil potatoes in a 4-qt. saucepan of salted water until tender, about 20 minutes. Drain potatoes and let cool, then transfer to a bowl and mash until smooth. Add flour, eggs, yolk, and salt; stir to combine. Cover with plastic wrap and chill dough 30 minutes.
Step 2
Heat oil and bacon in a 12" skillet over medium-high heat; cook until fat is just rendered, 10–12 minutes. Add onion and cook, stirring occasionally, until onion is golden and bacon is crisp, about 8 minutes. Pour off and discard fat, or save for another use. Stir allspice and salt into bacon mixture; let cool.
Step 3
Bring an 8-qt. saucepan of salted water to a boil. On a lightly floured surface, divide dough into fourteen 4-oz. balls. Working with 1 ball dough at a time and with lightly floured hands, press index finger into center of ball to create a pocket; place about 2 tbsp. bacon mixture inside pocket and pinch edges of dough to seal; roll into a smooth ball and flatten into a 2 1⁄2"-wide patty about 1" thick. Add dumplings to water; when dumplings float, reduce the heat to medium and simmer until firm, about 30 minutes. Using a slotted spoon, transfer the dumplings to a serving platter; serve with lingonberry preserves and sour cream.