Recipes
Pellkartoffeln mit Leinöl (Boiled Potatoes with Quark and Flaxseed Oil)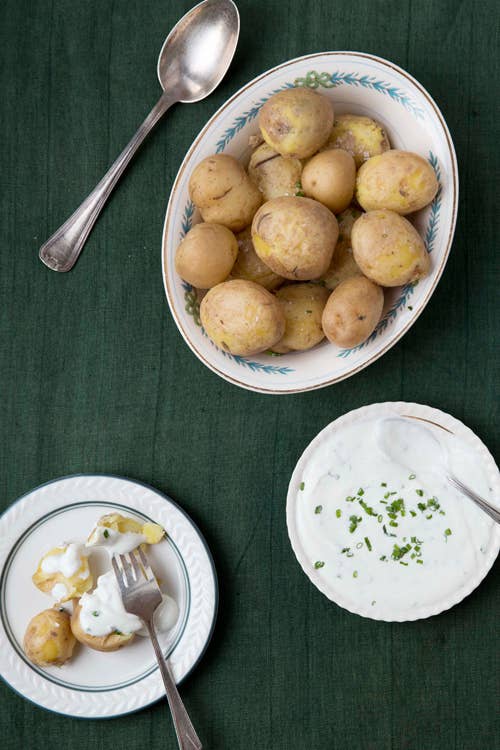 Flaxseed oil adds a pleasant nutty flavor to this classic East German potato dish, a Green Thursday childhood favorite of author Nadia Hassani. This recipe, from her book Spoonfuls of Germany (Hippocrene Books, 2013), first appeared in the tablet edition of our April 2014 issue with the story Seeing Green.
Ingredients
2 lb. small waxy potatoes, scrubbed
1 tsp. caraway seeds, plus ½ tsp. ground
16 oz. quark or Greek yogurt
3⁄4 cup minced chives
3 tbsp. milk
2 tsp. flaxseed oil
Kosher salt and freshly ground black pepper, to taste
Instructions
Step 1
Bring potatoes, caraway seeds, and 6 cups water to a boil in a 4-qt. saucepan; reduce heat to medium and cook until tender, 15–20 minutes. Drain potatoes, discarding caraway seeds; keep warm. Stir ground caraway, quark, ½ cup chives, the milk, flaxseed oil, salt, and pepper in a bowl; garnish with remaining chives and serve alongside potatoes.